Latest posts by Devin McKinney
(see all)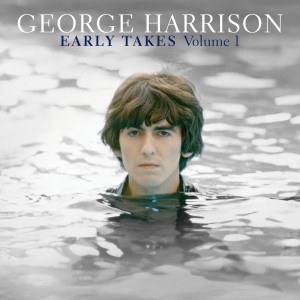 DEVIN McKINNEY  •  Note: These are not new impressions, but ones jotted down in May 2012, the day Early Takes: Volume 1 came in the mail, and embellished more recently.
George, in a photo taken in a Bahamian pool during the filming of Help!, holds his head above the water's crystal surface, his face the perfect expression of the solemn young seeker braving the eddies and tidepools of the material world: a Siddhartha for the '60s. The image is rich, quiet, suggestive, like George at his best.
It's beautiful wrapping on a gift that isn't quite there. Olivia Harrison, Giles Martin, and whomever else was involved have made this a tender little release, but behind the front cover Early Takes: Volume 1 holds little in the way of context, data, or style. It needs more imagination, in all aspects of its presentation—titling, annotation, programming. Modest to a fault, the album is barely over a half-hour long, with a number of songs which, due to their tentative, exploratory nature, do not resolve in worked-out endings but simply stumble to stopping points before dissolving behind giggles and talk. There's no sense that the selections have been sequenced in a particular order for ebb and flow, startling starts or dramatic culminations. Granted, it's a collection of demos, sketches, and, indeed, "early takes"; but those who assembled it were hardly obliged to make the album sound like an early take of itself.
It's to my surprise, I will say, that few of the tracks are among those which have been commonly available on bootlegs for well over a decade—chiefly, but not only, Beware of ABKCO! and Songs for Patti, both released in 1994 on the Strawberry label. Nor are most of these tracks found even on the five-disc The Art of Dying: The Complete All Things Must Pass Demos, Sessions and Remixes. But astonishingly for a collection devoted to a man who spent so much of his life in the proud community of session players, the liner offers no information on accompanying musicians or recording dates. That's all given, no doubt, with the deluxe DVD, but it's a real skimp not to provide it here: I paid my $12—give me the names.
Track by track:
1. "My Sweet Lord." Previously unheard by me, this is listed as a demo, though an engineer slates it "Take 1," and George's ill-tuned acoustic guitar is accompanied by drums, presumably Ringo's, and bass, presumably Klaus Voormann's. The run-through is ragged, sketchy, the merest shadow of the resultant glory.
2. "Run of the Mill (Demo)." Again slated as Take 1. George solos on acoustic. This is the same demo that's found on ABKCO! and Patti.
3. "I'd Have You Any Time [sic] (Early Take)." Such a gorgeous song. This full-band version of the Harrison-Dylan composition, very similar to the released take, features some bum notes from Clapton, but it has a charging, forceful quality on the refrain that the LP version lacks. Includes a count-in, for what it's worth. (A lot: I love count-ins.)
4. "Mama You've Been on My Mind (Demo)." Another previously unheard outtake. George's execution of one of Bob Dylan's most affecting early ballads is expectedly sweet, with some haunting instrument (what instrument?) tootling in the background. Sounding quite finished for a demo, it could have been released commercially—though clearly it would have violated the Wagnerian gestalt of All Things Must Pass.
5. "Let it Be Me (Demo)." Another pretty, unbootlegged cover version, this time of the Everlys, with some trademark Harrison guitar flourishes. (Who is the harmony vocalist? George O'Hara Smith? Drat the lack of info!) This too sounds well beyond the demo stage. Note that Dylan included a terrible version of the same song on his Self-Portrait album, released back at the beginning of 1970.
6. "Woman Don't You Cry for Me (Early Take)." The Dylan theme continues; clearly George, unlike John, believes in Zimmerman. This is a 1963-reminiscent folkie thing whose chief pleasures are a nice acrobatic vocal and some tricky folk guitar—we don't often hear George working out on acoustic this way. Someone pops a Jew's harp to the rear. (Who?!?)
7. "Awaiting on You All (Early Take)." A small-band fuzz-funk version of the enjoyably bombastic, traffic-jam album version. [Mis]announced by George as "Awaiting for You All." Previously unheard.
8. "Behind That Locked Door (Demo)." George flies solo, until a steel guitar (Pete Drake?) unexpectedly steals in for a lovely liquid interlude, to lift yet another of these "early takes" past demo status. Refreshing, and quite lovely in its simplicity; might be superior to the album version. Previously unheard.
9. "All Things Must Pass (Demo)." Acoustic guitar, bass, drums, and a little dull. Lacking the focused, fixated quality of the one-man, one-guitar Anthology 3 demo, it stutters to a premature close.
10. "The Light That Lighted the World (Demo)." Prettily done, but a weak closer. The only song to come from Living in the Material World, and probably meant as a teaser-pointer to Volume 2.
In all, Early Takes: Volume 1 is a fine collection that rates with the better All Things-era bootlegs. The preponderance of unbooted material lends it value and novelty, but the complete presentation, as noted, is lacking in almost every department. From a bootlegger, such deficiencies would be excusable; from intimates and insiders with unfettered access to the Harrison vaults, they are unaccountable.
Perhaps this is a kind of placeholder release, designed, in the fashion of operating systems or refrigerators, to be superseded somewhere down the line—perhaps by a time-spanning, multi-volume outtakes collection loaded with the meat and potatoes of information and the garnish of graphic design. But if that's the plan, it's a foolish one. Each segment of a staggered release ought to wear its own colors, have its own personality, be a satisfying immersion in its own piece of time. Each of the Beatles Anthology CD installments was awesome on its own, while still fitting into a clear overall design. Bob Dylan's Bootleg Series—whose Vol. 10: Another Self Portrait (1969–1971), released last August, included a number of Dylan-Harrison collaborations from the Early Takes era—is a model of how such releases should be done; yet another is Neil Young's mammoth ongoing Archives series.
But on second thought, forget the "placeholder" theory. I think the more likely, and even more perplexing, explanation is that no one in the Harrison orbit saw Early Takes: Volume 1 as a particularly important release—that it was felt to be, at best, an appendage to the Living in the Material World documentary, with cultural muscle for both coming courtesy of Martin Scorsese and HBO, more than George himself. But the man and his songs deserved better than this near-nonentity of a collection, which is, after all—aside from the bonus track-rich thirtieth-anniversary edition of All Things Must Pass—the first official issue of unheard Harrison material.
Postscript: Which, as of January 1, 2014, it remains. Where's Volume 2? Google is so far mum on the subject.