Latest posts by Michael Gerber
(see all)
Guest review by LINDA MARSHALL-SMITH • When 17-year-old Beatles fan Freda Kelly was hired as Brian Epstein's secretary in 1962, she couldn't have known she was in for a uniquely intimate ten-year view of Beatlemania and its aftermath. Unlike many of the Beatles' former associates, Kelly—a self-described "private person"—has kept her stories of the band under wraps for decades. In Ryan White's newly released documentary, also available on iTunes, she finally shares her tales. (Well, some of them.)
A Beatles fan's dream job
Kelly's firsthand observations about the Beatles and their inner circle make the film well worth watching. She tells stories about John's myopia, Ringo's fan mail, George's taxi service, and participating in the filming of Magical Mystery Tour, among many others. There are limits to Kelly's openness, however: When questioned about intimate relationships with the band members, she admits to having crushes, but gets schoolgirl giggly and remains coy. Her comment that, after she joined the Beatles organization she "grew up, overnight, in more ways than one" leaves viewers wondering.
The "Scent of the Cavern"
Kelly's association with the Beatles began in 1961, when she was working as a secretary in Liverpool. One afternoon, a friend invited her to go to the Cavern.  She saw the Beatles and was instantly hooked; over the next two years she saw over 190 Beatles shows at the club. She remembers being late getting back to work from a lunchtime Cavern excursion and being unable to lie about where she'd been because the "scent of the Cavern" (sweat, decaying fruit, faulty plumbing) was on her clothes.
 She got to know the Beatles by always standing in the same spot at the Cavern, one easily accessible to the "band room" so she could spend time with them during breaks. At this point in their career the Beatles readily took requests, especially Paul. "I'd ring Paul up and say, it's so and so's birthday on Wednesday.  Could you sing her favorite song for us, Paul?"  He always came through.
Making John Lennon beg
While Kelly clearly enjoyed working for the Beatles, she admits that her role had its difficulties, with John Lennon's mercurial nature being one of them. At one point John wanted to fire her for spending what he thought was too much time in the Moody Blues' band room. When it was clear the other Beatles didn't want her fired, John said he was only kidding. Kelly told him to get down on one knee and beg forgiveness, and he did. Quite a testament to Kelly's importance to the band!
John's extramarital affairs also affected Kelly. For one thing, he dated a close friend of hers; for another, Kelly was told by Brian Epstein not to reveal that John was married. She kept the secret, of course, but was conflicted about it. But Kelly also highlights how John could be kind—as on the day she mentioned she felt there was something "off" about Brian. John took her aside and explained Brian's sexual preference in an affectionate and humorous way.
Brian Epstein emerges as having an exacting work ethic, and a temper. He was ready to fire anyone who didn't come up to his standards; he might hire you back, but might not. Kelly was one of the only people in the Beatles camp who was never fired by Brian, although she did come close when she accidentally erased part of a Dictaphone tape. She says that on this occasion John saved her job by stepping in and ribbing Brian, making a joke of the incident.
 Good Ol' Freda: Brisk and Well-Shot
Overall, the documentary is shot well and moves quickly, taking Kelly to significant places in her life with the Beatles. We see her at the Civic Center, for example, where they had their triumphant return to Liverpool greeted by 200,000 fans. At Ringo's childhood home in Dingle, Freda talks of how close she was to Ringo's mum. She helped all the parents deal with the happy calamity of Beatlemania; the onslaught of fan mail, and the bevy of girls who would hang out at each Beatles' house waiting for a glimpse.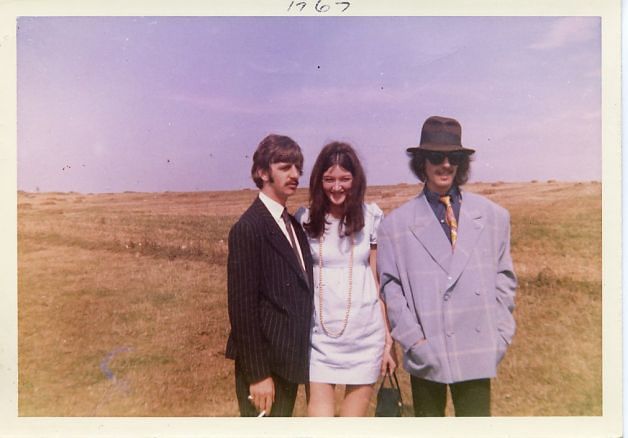 Intercut with clips and historic photos, the majority of the first half of the film is a one-shot of Kelly sitting on a sofa, reminiscing about her days as Beatles secretary.  The couch is positioned beneath a staircase that cuts off the room and hangs over her head as a symbol, perhaps, of her keeping the lid on her experiences for so long.  This symbolism notwithstanding, I would have liked to see her interviewed in a more cinematic room or at least a little more attention paid to the art direction.
Never Capitalized on Her Access
Almost as amazing as Kelly's experiences with the Beatles is her not having sought fame or money for her memorabilia or stories. When she left the Beatles' employ in 1972, she gathered up some leftover autographed photos, some locks of Beatle hair, and a few hundred unanswered fan letters, and took the whole lot home.  In 1974, she gave away a large part of her collection to some Beatles fans, something she was glad to do because "I know it went to other fans."
Of her reticence about sharing her Beatles stories prior to now, Kelly says, "Occasionally, I'd see something on telly and I'd remember being there, and I'd say, 'Oh, that was a fun day.'" According to the film, even her daughter did not know half the tales Kelly shares.
"One of the last true stories"
A few notable appearances in the film: Billy Kinsley, an original member of the Merseybeats; Tony Barrow, the Beatles press officer; and Angie McCartney, Paul's stepmother and the only living Beatles' parent.  "This story of Freda Kelly is one of the last true stories of the Beatles that you'll ever really hear," notes McCartney.
Thanks to Paul and Ringo's warmth towards Kelly, the filmmakers were able to secure the rights to four Beatles songs, along with a myriad of historic photos and clips—some never seen before.   They raised the initial funding for "Good Ol' Freda" on Kickstarter and exceeded their $50,000 goal.   Isn't technology grand?
But why did Kelly decide to share her Beatles' tales at long last?  After the screening I saw, a panel discussion revealed that American-born Ryan White is the nephew of the Merseybeat's Billy Kingsley, and had traveled back and forth to Liverpool all his life.  He'd met Kelly on these trips and the project came together.  But that's all I'll say about it—you'll see what finally inspired Kelly to open up when you see the film.
Meeting Freda
I had the pleasure of meeting Kelly, and talking with her a bit about Beatle fandom. I showed her my "official Beatles fan club member" cards that I dug out of a box of Beatles memorabilia. As a kid I had joined the fan club through the US branch. The only items I ever received were a British fan magazine and two photo cards; one was for autographs and had their signatures embossed on the back with space for additional autographs, and the other was an ID card, which said I was an official Beatles fan.  Kelly thought it hysterical that under "In an emergency, call…" the young me had written "Paul McCartney!"
An Envelope of George's Hair
One of the producers, Kathy McCabe, told me that a collector had given the filmmakers three strands of Paul's hair.  They auctioned it for $3000, which went towards production costs.  Imagine what Kelly might get for the remaining locks of Beatles hair she still has?  You'll see in the documentary what she does with an envelope of George's hair, but I don't think she could ever bring herself to sell it.
Although "Good Ol Freda" is full of fun anecdotes of the historic, meteoric rise of these four normal guys from Liverpool, you can't help but come away thinking there must be so much more to this story — Beatlestuff, sure, but about Freda Kelly, too.  Even so, I was happy to have gotten what she gave, and to be taken back to a time when you couldn't wait for the next Beatles single to be released, or to catch them on TV, or see them in person somewhere.
"Good Ol Freda" reminds us of that happy music, an exciting time, and a fascinating glimpse into the lives of the Fabs from their humble beginnings through the break up and beyond, by someone who knew them so well.  If you're a Beatles fan, you won't want it to end.
Schedule of screenings
(The film is also available on iTunes.)
Official trailer
www.youtube.com/watch?v=LqO3DIaKTXM