Latest posts by Michael Gerber
(see all)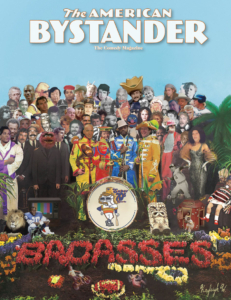 (And now, a brief word from our sponsor…)
The latest issue of my print humor magazine, The American Bystander #23, is all about the Seventies. Given that so much of this blog talks about that very distinctive time, I thought I'd hondle everybody. Try it, you'll like it—and at just $5 for a PDF and $20 for a print edition, how wrong can you go?
Needless to say, buying one's a great way to support this site, which isn't cheap to host.
Also, dig that parody cover; it's not a Gerber production without Beatle references dontchaknow. But there's a deeper level of logic at work. To my mind, the entire Seventies took place in the shadow of the epochal pop culture that had come before in the Sixties—to me The Seventies often feel like a parody of the Sixties, from groups like The Bay City Rollers weakly standing in for The Beatles, to JFK's era-defining assassination being replayed as farce, with not one but two women trying to shoot President Ford unsuccessfully over the space of three weeks. What would've changed if Jerry Ford had died? Nothing; that was the Seventies in a nutshell—even assassinations, as potent a signature of the Sixties as Pepper, would have to wait until 1980 to feel impactful again.
The collection presented on Pepper's cover was of people of great worth—artists and writers, gurus and Gandhi. Even poor Stu is there partly for his role in the Beatles story, but also for how J/P/G/R thought he would have changed the world. It's only right that the Seventies version be people from TV, wrestlers, athletes, dreck from childhood. (The issue was inspired by a great, hilarious Twitter feed, @super70ssports, and the people in our collection are frequently mentioned on their feed as"badasses.")
At its heart, the Seventies' chronic low self esteem stemmed from the fact that they couldn't deliver. It wasn't the Utopia that the Summer of Love promised; instead it was a decade filled with flotsam and jetsam, a morbidly self-aware time that was nostalgic for itself even as it was happening. Pepper in 1967 made the promise of pop as art, and the Seventies could not deliver anything but pop as product, as wallpaper, as background for childhood. Hence, this cover.