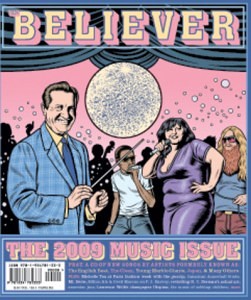 Let's play along with David L. Ulin's "The Beatles, 1970–1975," in the Believer's 2009 music issue (just out—get yours here or at your favorite store…be forewarned, these sell out!):
If The Beatles Hadn't Broken Up
The Beatles are the fascination that lingers. I've been listening to them since August 1968, when my parents gave me Sgt. Pepper's Lonely Hearts Club Band for my seventh birthday, the original Capitol Records pressing with the souvenir cutouts, the paper mustache, the epaulettes. It takes a certain type of fan to obsess about such things, and once upon a time that's who I was. Obsessive enough to track down every recording John ever played on, every song he and Paul wrote for Cilla Black or Peter & Gordon, every Teddy Boy bootleg: Hamburg, The Decca Sessions, This Is the Savage Young Beatles, with its garish yellow cover, the band clustered in their leathers, looking not quite dangerous enough to be a street gang, not quite polished enough to be the pop phenomenon they became.This is one version of the fantasy Beatles, the early Beatles, the tough-guy rock-and-rollers, the amphetamine-eating wild boys who played eight hours a night in the Star Club, John with a toilet seat around his neck. This is the prehistory, vague and filmy, glimpsed in black-and-white photographs and fragmentary sound clips: the chime of a guitar, three seconds of harmony that seem almost familiar, prescient, like a sign of times to come. We almost feel as if we know them, as if these are the kids in high school who went on to sign a record deal. They appear to be accessible to us on human terms; as John told Jann Wenner in 1970, "We were just a band who made it very, very big, that's all."

Of course, the Beatles have never been accessible to us on human terms, at least not in America; they were famous from the moment we met them, Beatlemania 1964. Still, those early images and bootlegs suggest an alternate history, a way we might remake them as our own.

The Beatles don't have to be the band that took the world by storm. Or maybe they are, but didn't fall apart; maybe Abbey Road or Let It Be—depending on your dissolution myth—doesn't have to be the final word. This is the other version of the fantasy Beatles, equally shadowy and indistinct. What if they had stayed together and made records until John decided to become a househusband in 1975? It's not entirely out of the question: by the mid-1970s, John and Paul had come to an accommodation. They were together the night Lorne Michaels jokingly offered the Beatles three thousand dollars to appear on Saturday Night Live; it's said they considered showing up at NBC. A few years earlier, on March 31, 1974, they even reunited for an evening in a Los Angeles recording studio, along with Stevie Wonder, Harry Nilsson, Jesse Ed Davis, and Bobby Keys; the resulting booze- and coke-addled session, featuring standards like "Cupid" and "Stand By Me," is available on a bootleg called A Toot and a Snore in '74. It isn't much to listen to, except for when those harmonies kick in. Here we have the nature of pop stardom—to be a mirror for the audience's desire.

So why not play a game of let's imagine? If the Beatles hadn't broken up, what would their 1970s albums have sounded like?
You'll have to get the issue to read the rest of the piece, but in the meantime: How would you assemble your fantasy-team splintered–Fab Four albums?