Latest posts by Mollie W. O'Reilly
(see all)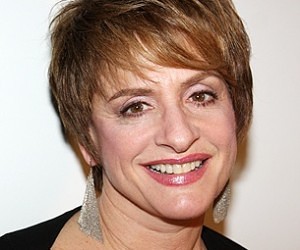 MOLLIE WILSON REILLY • I've been thinking about Patti LuPone over at Restricted View, and I never think of Patti without thinking of Life Goes On, the TV series she starred in when I was growing up. Though the role was not officially a musical one, Patti did lead the cast in singing the theme song: "Ob-la-di, Ob-la-da." It was bouncy and fun, and it was my introduction to the song. You won't hear it on the DVDs — high licensing costs — but you can hear a really bad recording of it here.
Recalling it got me thinking about other Beatles songs used as TV themes. In adolescence I was also a faithful viewer of The Wonder Years, but I never knew "With a Little Help from My Friends" was a Beatles song until I bought Sergeant Pepper's…, my very first Beatles album. The show used the Joe Cocker cover version (different cuts of it at different times; I remember it this way). Slow, soulful, Motown-y, it doesn't bear much resemblance to the bouncy original, so when I heard "Billy Shears" singing those familiar lyrics I nearly fell over.
The only other example I can think of is Grace Under Fire, the blue-collar sitcom that starred standup Brett Butler and used Aretha Franklin's version of "Lady Madonna" as the theme song for the first few seasons — until it got too expensive, I guess. And Google tells me Providence used this irritating version of "In My Life" — again, until finances interfered. Are there others I'm forgetting?
As the portion of airtime devoted to the show itself has been shrinking, few sitcoms have the luxury of a lengthy theme song these days. So we may have seen the last of the Beatles-song-as TV-show-intro. But they're popping up in commercials all over the place! It seems almost quaint that the use of "Revolution" in a 1987 sneaker ad could have provoked an outcry. It was a simpler time. I will admit to being outraged by Chase's recent use of "All You Need Is Love" in a credit-card ad, but for the most part I kind of enjoy hearing Beatles songs (and fun pop songs in general) popping up during commercial breaks. I particularly dig the impressionistic "Hello, Goodbye" by Sophia Shorai that Target is using in all its ads (like this one), and the "good buy" pun doesn't really bother me, I guess because "Hello Goodbye" always sounded like a jingle to begin with. What do you think about all this? Is there a song/product pairing you'd like to see, or dread seeing? Could anything be worse than "All You Need Is Love" selling a credit card? I'm holding out for the day Kellogg's makes a Corn Flakes spot using "Good Morning, Good Morning." Then we will have come full circle indeed.