Latest posts by Michael Gerber
(see all)
Simpsons writer Josh Weinstein argues so in this (hotly debated) article for The Guardian.
Without Yellow Submarine there would never have beenThe Simpsons, no Futurama, no South Park, no Toy Story, no Shrek. No animated anything that enables us to laugh at ourselves while being highly entertained.
Naturally, I want to believe him. In my opinion, The Beatles (and -related) are that clear, burbling spring from which all good things flow. Of course the comments are alive with internet types, people who obsessively leapfrog each other in truth-owning appeals to obscure authority, who defiantly declare that Yellow Sub was/is shite and the REAL breakthroughs were the brilliant, ultra avant garde, but sadly underappreciated animation going on in Japan (or Czechoslovakia, or the USSR) back in the 1920s. To them Weinstein is, variously, Anglocentric or an ignorant American or too "Hollywood" to know anything, which is weird when you're talking about a movie. 

Ha, ha, internet people obsessed with the minutia of some personally activating tendril of pop culture! How absurd! How utterly sad it is to see them tussle over microscopic points of doctrine, instead of being delighted that the world shares with them an enthusiasm.

(Pardon me while I cue up "Artifacts 1, Disc 3: The Psychedelic Years." Please note it is not the White Album.)
When I see "Yellow Submarine," I see something never mentioned: the graphic style of Milton Glaser and Seymour Chwast, who were the twin powerhouses behind a design/illustration firm called Pushpin Studios. The person behind Yellow Sub's distinctive look, a German designer named Heinz Edelmann, was apparently a friend of Glaser's (he was quoted in Edelmann's obituary), and I assume Chwast's too. 
This is a famous Glaser poster from 1966:

You've totally seen this before. (Glaser did the typeface, too.)
And here's a Chwast illustration from Pushpin Graphic #52 (1967): 
Oh God, do I love Seymour Chwast's work.
If there is a Heaven, I hope it looks like he drew it.
Peter Max is more often mentioned—and sometimes mistakenly assumed to be the designer of the film—probably because he kept doing YS-type stuff after Edelmann (and Glaser and Chwast) moved on. Here's what Peter Max was doing before YS, and after. 


Max, 1966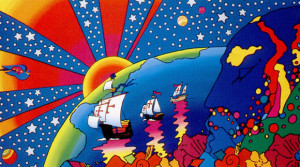 Max, 1992
You can see the high-contrast b/w used in the Lautrec poster above in the Liverpool/"Eleanor Rigby" section of Yellow Submarine. This is a look I am trying desperately to steal for a big humor magazine project I'm working on.  (Which is why I haven't been posting on Dullblog.)

Anyway, go read Weinstein's article, you'll enjoy it. He's a friend-of-a-friend, so be kind.
Comments are closed.