Latest posts by Michael Gerber
(see all)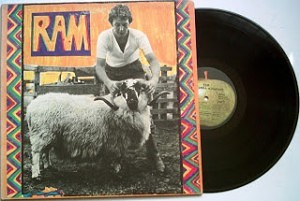 [After the millionth insightful comment by our indefatigable Nancy, we asked her if there was anything Beatley burning a hole in her well-furnished brains. This is what she wrote; give her a warm Hey Dullblog welcome.–MG]
NANCY CARR • When it was released in 1971, Ram was hated—really hated, to the point of practically being crushed and melted—by many rock critics. Rolling Stone's Jon Landau inveighed against it as "the nadir in the decomposition of Sixties rock thus far," calling it "incredibly inconsequential" and "monumentally irrelevant." Robert Christgau was kinder, giving it a C+ and sniffing "If you're going to be eccentric, for goodness' sake don't be pretentious about it." Ram was dismissed—its being credited to "Paul and Linda McCartney" didn't help—as a bunch of chirpy domestic tunes.
Ram's Resurgence
Yet over the years Ram's reputation has risen, as Stephen Thomas Erlewine's changing opinion illustrates. In 1997's All Music Guide to Rock (2nd edition) he gave the disc three stars for being mostly "filler," adding that "while it's enjoyable filler, it prevents the record from being much more than a pleasurable diversion." Sometime since, however, Erlewine got Ram religion: the online All Music Guide awards the album five stars. "[T]hese songs may not be self-styled major statements, but they are endearing and enduring, as is Ram itself, which seems like a more unique, exquisite pleasure with each passing year."
And to that I say, "amen." Ram's distance from the 1971 rock orthodoxy's serious-statement aesthetic has kept it sounding fresh and undated. Forty years on, Ram's unabashed delight in melody, harmony, and musical inventiveness sounds timeless, not throwaway.
It's hard for me to fathom how any rock fan can resist this record. Its songs recall the Beach Boys ("Dear Boy," "The Back Seat of My Car"), Buddy Holly ("Eat at Home"), and John Lennon ("Ram On," and yes, I will attempt to justify this claim). On Ram McCartney cuts loose, exploiting his full vocal range (high, sweet singing on "Heart of the Country," falsetto and precise harmonies on "Dear Boy," flat–out screaming on "Monkberry Moon Delight"), and the full range of his feelings, from love to anger. Yet even the angriest songs are hooky and bouncy. Maybe that's why so many critics in 1971 overlooked the often personal lyrics: the songs are so damn catchy they breeze right by.
Ram as Response
With the exception of "Ram On", Side 1 is all response to adversity and criticism, comprising accusation (of Lennon, in "Too Many People"), mock self-defense ("3 Legs"), mock commiseration (with Linda's ex-husband, in "Dear Boy"), mock apology ("Uncle Albert/Admiral Halsey") and defiance ("Smile Away"). Side 2 is all love, delight, and passionate release. It's about finding a peaceful place to live ("Heart of the Country,"), having delirious family fun ("Monkberry Moon Delight"), making love ("Eat at Home"), falling in love ("Long-Haired Lady"), and reveling in teenage lust ("The Back Seat of My Car").
"Ram On"'s importance to McCartney is indicated by the album's name and by his including two versions of the song, one on each side. It's the Lennonesque song on the album, a McCartney version of Plastic Ono Band's "Hold On." McCartney being McCartney, the lyrics of "Ram On" aren't "Hold on, Paul" but "Ram on / Give your heart to somebody / Soon, right away." But like Lennon, McCartney reassures himself that having found love, he can survive. "Ram On" also recalls McCartney's early stage moniker, "Paul Ramon," perhaps as a way of reminding himself of his continuing identity as a performer.
The Cover Versions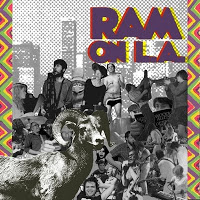 The last few years have produced three complete cover versions of Ram. Though totally unrelated, the compilations RAM on L.A. and Tom (after WFMU disc jockey Tom Scharpling, who masterminded it) were released the same week of March 2009. RAM on L.A. is fascinating and maddening by turns. You'll either love Le Switch's gypsy-inflected "Monkberry Moon Delight" or run screaming from the room, while Amnion's psychedelic "Long-Haired Lady" is deeply odd but oddly winning. To my ears, Earliment's "Too Many People" and the Bodies of Waters' "Dear Boy" strike the best musical balance.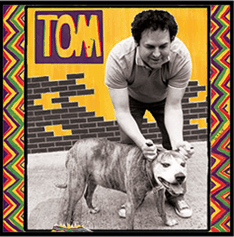 Loaded with big-name talent, Tom is impressive throughout. Aimee Mann does "Too Many People," Death Cab for Cutie takes up "Dear Boy," and The Morning Benders cover "Ram On." Every track works, but Ted Leo's "The Back Seat of My Car" is brilliant. The beginning drags a bit, but the last 2½ minutes are amazing. Leo's "yeah, yeah, yeah, yeah. . . . WOOOOO!" before he screams "We believe that we can't be wrong" over and over, more desperately each time—well, you just have to hear it.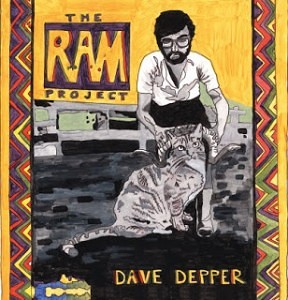 Dave Depper released his cover of Ram this year, playing all the instruments (a female friend supplied Linda's harmonies). Depper decided to cover the album when he was at a creative low ebb, unable to write original songs, and set out to reproduce McCartney's originals as faithfully as possible. He comes pretty close, an impressive feat that also limits the album's artistic value. Because it doesn't reimagine anything, The Ram Project is fun but not very illuminating.
I'll give Depper the last word. In an interview he explained his decision to cover Ram this way: "I felt like I just discovered this big secret—that Paul McCartney actually did a bunch of badass stuff, and I had spent my whole life trash–talking him. So it felt like a debt of honor to this guy to bring this to light."
Nancy Carr is a writer and editor based in Chicago.