Latest posts by Devin McKinney
(see all)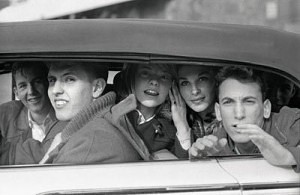 DEVIN McKINNEY  •  Courtesy of Joe Bonomo, writer, professor, rock fan, comes this item.
Ringo took this shot of fans from the back of the Beatles' limousine. He doesn't remember for sure, but he believes it was in Miami Beach on the Beatles' first trip there, February 13-22, 1964.
The article in the Miami Herald has some great quotes from local fans, some of whom remember the Beatles' visit, and poses a mini-mystery of the kind I love. Someone objects that, since the kids are wearing jackets, this can't be Miami. But the writers do their research and discover that, indeed, there was a cold spell during the Beatles' week there.
Why does Ringo care who these teenagers are? He wants to meet them.
But read the story.