Latest posts by Michael Gerber
(see all)
It's amazing how many men used to wear horn-rimmed glasses, isn't it?
For those of you with a little extra scratch, two Beatles vinyl rarities are up for sale: number A0000001 of The White Album, and a copy of Sgt Pepper with various Capitol execs dotting the crowd in the background.
The White Album, which was purchased in 1989 for $1000 (seems cheap even for then), is expected to fetch—well, it has an opening bid of $10,000, so God knows.
The Pepper, on the other hand, has an opening bid of $15,000.
You can read a bit more about this White LP over at Dangerous Minds; I've pasted the COA they reproduced below.
PS—Devin's birthday is coming up. Just sayin'.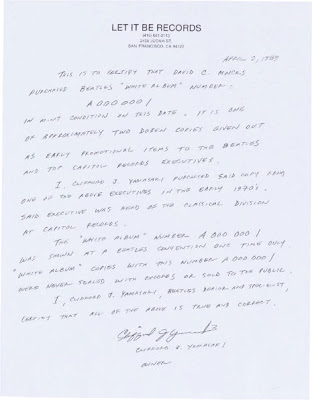 (h/t Dangerous Minds)