Latest posts by Devin McKinney
(see all)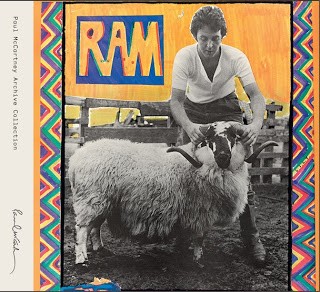 DEVIN McKINNEY  •  Can anyone think of another pop record whose qualities have been so vindicated, and whose reputation has been so rehabilitated, by time? Though I've fought bravely on this site against massed resistance (well, one or two people) to call it something just less than a masterpiece—can't get past a certain emotional vacuity at the core of things—RAM is so bountifully queer and cleanly, gracefully executed, the beautiful song crowded by the gargoyle-ugly, that finally masterpiece doesn't matter. I've loved RAM since I first heard it. It is Paul's best solo record by a distance, and one of my favorites by anyone.
If you say yeah to that, the new RAM reissue (number four in the "Paul McCartney Archive Collection") is a treat you must allow yourself. In breakdown, it contains a new stereo remaster of the album; a disc of unreleased bonus tracks; the album's unreleased mono mix, made for US radio; a remaster of the Thrillington album, Paul's joke-jazz remake of RAM's entire contents; a DVD's worth of relevant video; a big book of photos and text; and an array of other toys and oddments. The production is elaborate, imaginative, fun. It gives you the album from all angles in a sturdy, roughhewn package you will enjoy opening, feeling, disassembling, and reshelving for many years. Money-wise, it is more than worth it: add up the cost of each component purchased separately, and the box saves you a nice little pile.
First, the book. A swell assemblage, though its inauspicious beginning is an "Introduction" by one Simon Taylor that lays out the offering like an after-dinner speech, complete with bad pun on the album title: "although its tale (or should that be 'tail?'")—no, Simon, it should not be "tail." Turn the page, the trend continues: Next to a shot of Paul shearing sheep, "The uncut story of RAM starts here.  It's an impressive yarn …" Reminds me of the insipid notes for Wings Wild Life: "Inside this wrapper is the music they made. Can you dig it?" (Which notes, though credited to "Clint Harrigan," were actually written by Macca himself.) As someone who values the survival of both language and humor, I really wish Paul didn't have a weakness for this sort of thing.
But things improve as you turn the thick, hemp-like pages—stitched together as if by hand, real homey—and read Paul's transcribed memories, alongside those of drummer Denny Seiwell and guitarist David Spinozza. (Curiously and regrettably absent from the interviews, though not from the photographs, is guitarist Hugh McCracken, who contributed the majority of the guitar work.) Paul's comments are not revelatory (how many times has that been said about him?), but they do contain nuggets. He confirms long-held suspicions that "Too Many People" was aimed at John ("it was about our relationship at the time, and me feeling that I didn't need to be preached at"), while "Dear Boy" was about Linda's ex, "a very nice guy called Mel." The all but indecipherable "Uncle Albert" is Paul's apology to the older generation, and comes out of what he intriguingly terms "Irish drinking theory"; while "Ram On" was a play on "Paul Ramon," his Silver Beetles stage name. Little things like that.
The photos are fantastic. I had not seen a single one before. All come from the Linda McCartney Archives, though a number seem to have been taken by Paul, or by some third party. They begin on the couple's Scottish farm and continue through recording sessions at the CBS and A&R Studios in New York, to overdubs and mixing at Sound Recorders in LA. Paul undergoes great sartorial and tonsorial changes in the sequence, from a proto-punk brush-cut in late '69 to the flowing locks of the Wings years, from great bushy beard to junkie stubble to clean elder-heartthrob jawline. There are amazing images of Paul conducting an orchestra, howling at the mike, recording gunshots for "Oh Woman Oh Why."
The book ends, save for some salutary and well-detailed song credits, with Paul's charming story of the Queen of Norman. I won't reveal what that means. It's too good. (Though it sounds a wee bit apocryphal to me.)
Move on to the music. Disc 1, the Stereo Remaster. RAM has certainly never sounded better, though it never sounded bad: The 1999 reissue was perfectly lucid, and the LP I've been listening to since the early '80s remains meaty and vigorous. But the clarity on this latest iteration, brewed in the boards at Abbey Road herself, is complete, the audioscape broad and roomy, every detail integrating with the ease of a cloud, a tree, a field of grass on a sunny day. (Though I've always felt a pervading wetness in the album, a feeling of not-quite-rain that is part of its grandeur: "Ram On" and "Uncle Albert" in particular.)
The differences are mostly ones of relative prominence in some instrumental detail. In "Too Many People," always a guitar-dominated piece, Paul's bass bulges a bit more. "Ram On," one of my favorite tracks, seems redoubled in the echoing drama of Linda's backing vocal. Bass is again more apparent on "Dear Boy," with more specificity to its contrapuntal voices, especially near the end. "Smile Away" has always been the record's nadir for me, but this mix really jumps, especially in the gear-shifting run-up to the last verse. "Heart of the Country" brings out McCracken's preternaturally graceful harmony guitar; his razor chords are likewise the renewed focus of "Eat at Home." The interplay of two trumpeters during the long "Jude"-like chant of "Long Haired Lady" feels like a new presence.
The bonus tracks constitute a predictably mixed bag, starting with the RAM-accompanying single, "Another Day"—a lame song, though not completely legless—backed with "Oh Woman Oh Why," which is quite simply one of Paul's best songs ever. Of "Little Woman Love," the less said, etc. "A Love for You" has a great verse sabotaged by a cutesy chorus, but you stick with it, waiting for that verse to come back around. "Hey Diddle" is a country-dreamer riff that goes on way too long, "Great Cock and Seagull Race" a pointless rock instrumental. Both minimal and meandering, the eight-minute-long "Rode All Night" is a grinding workout with just Paul and Denny, guitar and drum. The last track, "Sunshine Sometimes," is a breezy, lazy instrumental with a Paul vocal so distant and phantasmal it seems to have been imperfectly erased. (Two other bonus tracks—an energetic live medley of "Eat at Home" and "Smile Away," recorded in Groningen, the Netherlands, on August 19, 1972; and "Uncle Albert Jam," a silly sped-up version that resembles a Get Back outtake—are available only as digital downloads from Paul's website. The necessary code number comes in the box.)
There are no real hidden delights in the mono mix, not even the minimal-but-undeniably-present variations to be found throughout the Beatles' stereo-to-mono oeuvre. "3 Legs" has, I believe, a slightly longer "mm-hmm" at the very end. "Dear Boy" is likewise just slightly extended. The vocal echo on "Long-Haired Lady" may be slightly stronger. And on "Smile Away," there is a slight elevation of the fuzz bass on the "smile away quietly now" bit. Clearly the key word to apply to the mono mix is "slight." Nice to have it in captivity, though.
And then comes Percy "Thrills" Thrillington. Go to the net for the whole story of how Paul cooked up a notion of someone covering RAM in its entirety; then figured Why not me; then hired ex-Apple artist Richard Hewson to write up some jazz arrangements; then split the scene while said arrangements were recorded by a slew of musicians and vocalists; then, when the LP was finally issued in 1977, masterminded a coy publicity campaign twisting on the secret identity of Percy himself; then disavowed connection with the whole shebang until the late '80s, when pinned down at a press conference.
I can't say if Thrillington's stereo remaster was worth anyone's ear-strain, because while I bought the CD a number of years ago I couldn't make it past the first few tracks. The most honest thing to be said of the album as, um, art is that a few songs float to the surface of not-quite-badness, while the whole is a curiously attenuated dream sequence soundtracked by pompous approximations of vaguely familiar pazz 'n' jop accents. Contrast works to occasional advantage: The farmer funk of "3 Legs" is wrenched into sleazy stripper jazz, while "Ram On" comes off like late '60s Hollywood sunshine pop. "Eat at Home" becomes a modified reggae. The fuffling horn interjections that substitute for a vocal in "Smile Away" sound like the snorts of an ailing seal. The album has its humor, without doubt: I defy anyone to listen to the bisexual scat-group Wah-wah-wheeeeeee! of "Heart of the Country" and not laugh, or at least smile—and not in derision, either, but in the offered spirit of absolute silliness.
The bonus DVD consists of a lengthy snip of Paul and Linda singing "Hey Diddle" on the lawn in sight of two cavorting daughters; promotional videos shot in 1971 for the songs "3 Legs" and "Heart of the Country" (the McCartneys riding horses and bouncing on the beach); and Denny Seiwell's home-movie footage of Wings' 1972 European bus tour (does it ever look like fun). Best is the excellent little making-of documentary, Ramming, narrated by Paul (his quotes are the ones you've just been reading throughout the book). The doc is completely animated and quite herky-jerky, perhaps too much for some people, and doesn't resort to a single talking-head shot. I liked it a lot.
As for the toys. A small red flip-book collects Linda's photographs of the family sheep on their way to shearing—the same "session" that yielded the RAM cover shot. There is a book containing reproductions of score sheets and jotted notes pertaining to such logistics as song sequence, cover art, and publicity. There is an envelope tricked up to look like a photographic-materials container, containing a half-dozen or so glossy shots of Paul, Linda, sheep. There is another envelope, in which are found several folded pages reproducing Paul's handwritten lyrics. All are interesting and fun, perhaps more so for the care and creativity that went into their packaging than for anything inherent in the materials themselves.
The whole package is rather an undeclared tribute to Linda McCartney. She's richly represented in the photographs and film clips, and of course she's deep in the album's sound-grain: not for nothing, I guess, was the album credited to "Paul and Linda McCartney." As Paul and the musicians describe her in the notes, you get a sense of what a loving and peace-giving presence she must have been.
Each box is stamped, White Album style, with its own serial number.
Finally, you get two cards, each imprinted with a unique code. One grants you a year's access to the official Paul McCartney site. The other allows you to download from the site an MP3 version of the complete stereo album and bonus tracks. The tracks sound just as good on your iTunes as they do on your disc player. The download is a bit slow. Big deal.