Latest posts by Nancy Carr
(see all)
Ah, you didn't think there was a connection between the Beatles and Forrest Gump? Perhaps you've blocked that 1994 Robert Zemeckis film from your memory? (In which case, smart move.) Well, the great columnist and critic Lindy West is here to remind you of the link in her new book Shit, Actually: The Definitive, 100% Objective Guide to Modern Cinema.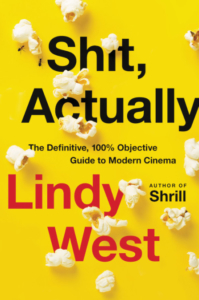 In the film, Forrest ends up on the Dick Cavett show, along with John Lennon. West excerpts the following dialogue:
Gump: In the land of China, people hardly got nothing at all.
Lennon: No possessions?
Gump: And in China, they never go to Church.
Lennon: No religion too?
Cavett: Wow, hard to imagine.
Lennon: Well, it's easy if you try, Dick.
West's comment on this interchange is "This is the most terrible scene ever to appear in any film" and I am just here to AGREE.