Latest posts by Michael Gerber
(see all)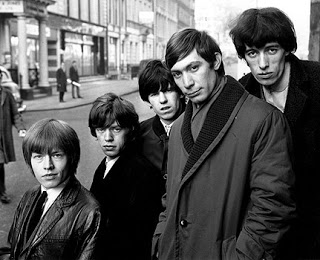 I'm taking the occasion of The Rolling Stones' 50th anniversary to declare the first-ever Hey Dullblog open thread. Any thoughts/opinions/stories about The Stones are welcome in the comments, especially if they have some relation to Our Guys, no matter how tangential.
This is an experiment; if everybody has fun, we'll do more open threads.
I'll start it off with what I immediately thought of this morning, when NPR told me it was 50 years since The Stones' first gig:
You know, they're congratulating the Stones on being together 112 years. Whoooopee! At least Charlie and Bill still got their families. In the Eighties, they'll be asking, 'Why are those guys still together? Can't they hack it on their own? Why do they have to be surrounded by a gang? Is the little leader scared somebody's gonna knife him in the back?' That's gonna be the question. That's-a-gonna be the question! They're gonna look back at the Beatles and the Stones and all those guys as relics. The days when those bands were just all men will be on the newsreels, you know. They will be showing pictures of the guy with lipstick wriggling his ass and the four guys with the evil black make-up on their eyes trying to look raunchy. That's gonna be the joke in the future, not a couple singing together or living and working together. It's all right when you're 16, 17, 18 to have male companions and idols, OK? It's tribal and it's gang and it's fine. But when it continues and you're still doing it when you're 40, that means you're still 16 in the head."
John Lennon, 1980. Discuss.