Latest posts by Michael Gerber
(see all)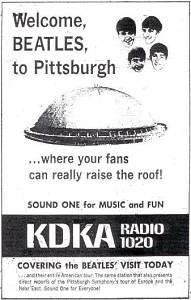 The Beatles one and only visit to Pittsburgh came in 1964, at the height of Beatlemania. The Post-Gazette commemmorates both the concert and the phenomenon here.
This is my favorite part. Three fans, holding a cake they hope to present to the group, are outside the arena waiting for the concert to begin:
Speaking "British" was something the three teens who'd never ventured far from Weirton [West Virginia] had done quite often. Just a few weeks earlier, Sharon and Beverly had launched into the accents while attending the premiere of the Beatles' new movie, "A Hard Day's Night," in nearby Steubenville, Ohio. Suddenly, they were surrounded by kids asking questions. It was a hoot!

So why not try it again?

As in Steubenville, the girls were suddenly surrounded.

Fans shouted questions. "Are there cows in England?" was Sharon's favorite. The crowd grew. Questions came from every corner. The girls parried the queries in their faux accents.

Not everyone was fooled. The girls could feel it — a rumble of disbelief. Finally, someone shouted, "I don't believe they're English."
A hush fell over the crowd. "We're done for," Sharon thought. "They'll burn us at the stake."

Then, from somewhere in the crowd, came the voice of a savior. "Yes, they are! I saw them at "A Hard Day's Night" in Steubenville, and they're English."
For the Beatles in Pittsburgh, "a train and a room and a car and a room and a room and a room"
It's all here, the short shows for then-astronomical sums, the berserk fans, the hurled jellybeans (did you know someone once threw a frozen T-bone at Paul? I didn't), and of course, the condescension shown by the old gray American press. Kaspar Monahan, the drama critic of the Pittsburgh Press wrote, "Paul or John or one of them said something funny, for there was a laugh, but I missed the riposte."
But you know what? I'll take that condescension, if you give me the authenticity, too. In our current era, where engineering a moment of masscult buzz is the focus of many adult professions — that's certainly whatever today's version of Mr. Monahan is doing — and (it seems) the sole point of much of our technology, it's always important to remember that Beatlemania was an authentic reaction. Not to promotion, but to art. That's what makes it a genuinely historical event and, for all its naivéte and silliness and crass commercialism, really inspiring as well.