Latest posts by Devin McKinney
(see all)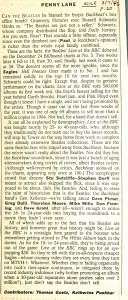 DEVIN McKINNEY  •  I was in the attic earlier, emptying out, so as to nominally organize, boxes containing several years' worth of Beatles clippings, magazines, newsletters, programs, and other collected print effluvia. Some of them date back 35 years or more, and I thought it would be fun to post a few of the more interesting ones.
Here's a column from the Village Voice of February 7, 1995. (Click to enlarge.) Live at the BBC is recently out, as is Backbeat; the high performance of one against the non-performance of the other is the text and the tension. Interesting tangents are drawn from the Beatles in the direction of the Eagles, Pearl Jam, Pink Floyd; an accurate analysis in the third graf explains to my older self why my younger self bought the BBC set on the day of its release, yet never bothered to see the movie until years later, on VHS, and then only begrudgingly.
Final wrap-up points are arguable. Of course.
Beware, there's an ugly swipe at Macca up front, but par for the course 18 years ago, long before Our Paul had his late-in-the-day, if not renaissance, then reevaluation, and certainly rehabilitation, as a cosmic resource the like of which has been seldom seen in our conception of human time.
As I post this, I'm listening to a random run of Beatles songs on my iTunes. It's 8:48 PM, Beatle time; it's 79 Beatle degrees outside. Even nature is paying homage to the boys: "Rain."