Latest posts by Michael Gerber
(see all)
Regular commenter Victoria has patiently untangled the saga of John Lennon's diaries, sorting through books and clippings to present us with an account worthy of film noir. I hope you find it as fascinating as I did. BTW, forgive any typos or funky formatting; I'm having terrible trouble with the backend. Just note any in the comments and I'll fix.—MG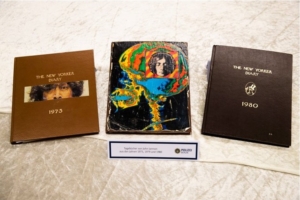 There are certain Beatles-related artifacts that are known to us, yet remain tantalizingly out of reach: one famous example is Japanese Jailbird, Paul McCartney's 20,000-word account of his nine-day-long imprisonment in Japan in 1980 due to a pot bust. But the Holy Grail of unavailable documents is surely the legendary Lennon diaries, the journals that John kept from 1975 until the end of his life. These diaries assume particular interest given how contested this period of John's life has been, a topic discussed numerous times here on Dullblog. This is a matter of historiography as well as fan interest: as Beatles meta-historian Erin Torkelsen Weber writes on her site,
One of obfuscating aspects of Beatles historiography is how crucial primary sources, such as Lennon's diaries, are privately held, and therefore unavailable to the point of inaccessibility.
And—spoiler alert—inaccessible they remain. However, the Lennon diaries have a storied life of their own. What follows is an attempt to summarize the information that is available about them, and trace their strange and convoluted history, involving a cast of characters with overlapping and often contradictory stories. This is an epic tale, filled with thefts and extortions, potential mistruths and distortions, multiple sets of diaries, and even collusion with a shady ex-diamond merchant.
So, what are the Lennon diaries?
John Lennon began keeping a journal in 1975, writing in yearly volumes of The New Yorker Diary .  There were five volumes in total, with 1976 being an exercise book that was inserted into 1975.
John recorded his thoughts in what seems to been an idiosyncratic and relatively scattered, yet detailed, manner. In his 1991 memoir The Last Days of John Lennon, Frederic Seaman (more about him shortly) gives this description of his 1980 diary:
It was full of cartoons which John had altered in a clever manner. The handwritten entries surrounding the illustrations suggested a colorful catchall log of mundane details of domestic life, philosophical ruminations, spiritual conflicts, poems, song fragments, sexual yearnings, and dreams. John appeared to have a remarkable ability to tap into his subconscious mind. Many of the entries consisted of minutely detailed descriptions of his dreams.
Robert Rosen (more about him shortly too!) has also talked about the diaries' contents in various interviews (here's an example), which include John's expressions of his love for Sean, his jealousy towards Paul, his obsessions with the occult. Rosen says,
He wrote about everything, you know, what he ate, what he dreamed, what time he got up in the morning, when he went to the bathroom, what he watched on TV, when he had sex, how much money he was spending, his relationship with Yoko, his relationship with Sean, what he thought about everybody else, especially Paul, just on and on and on. […] On many days, it just seemed like a total stream of consciousness.
From the information that we have about the content of the diaries, it seems that what they contain is personal and not always flattering to John or others, but it doesn't seem like there's any real smoking gun in there. Probably the main "headline" we know about is John's apparent glee at Paul's arrest in Japan, though other sources have him reacting differently. (Personally, I don't think this is necessarily a contradiction: people are more likely to vent their petty moments of schadenfreude in a private diary, and besides, John was certainly a mercurial person).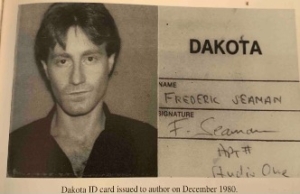 The reason we know about the diaries at all is because of the aforementioned Fred Seaman, who is central to their afterlife. Seaman worked for the Lennon-Onos as a gofer/assistant/paid companion to John between February 1979 and late 1981/early 1982. He got the job via his aunt and uncle Helen and Norman Seaman, friends of the Lennon-Onos for years: Norman had known Yoko since the early 60s, when he had produced her avant-garde performances. The Normans had also been actively involved in the campaign to stop John from being deported by the Nixon administration in the 1970s, and Helen Seaman was employed by them as Sean's nanny from 1978. Fred Seaman had grown up in Germany, and at the time he started working for the Lennon-Onos, had recently graduated in journalism from the City College of New York.
In 1981, Seaman walked out of the Dakota with an attaché case containing the Lennon diaries, thus kicking off a saga that has been described rather differently by all people involved. We have three versions of what went on afterwards; I'll describe each of these in turn.
Frederic Seaman's version of events
I'll  start with Seaman's version of events, as related in his memoir The Last Days of John Lennon. In Seaman's telling, he takes the Lennon diaries out of the Dakota on Friday 16 January 1981. He recalls a conversation that he'd had with John on their last night in Bermuda, where John had told him that if anything happened to him, he wanted Julian to have his diaries. So Seaman acts with the goal of the bestowing them upon Julian: "There was no doubt in my mind and in my heart that it had been John's wish that his oldest son should have his journals ". He doesn't tell Yoko, knowing that she would not approve.
That evening, Seaman goes to discuss the situation with "a close friend from college" (Robert Rosen, not named in Last Days ). Rosen and Seaman had met six years earlier when both were writing for the CCNY's student newspaper, where Seaman had admired Rosen's writing; the two had also been neighbours in Washington Heights for several years. Rosen offers to copy (presumably photocopy) the diaries overnight, a solution that would allow Seaman to have a set of copies for Julian, while allowing Seaman to return the diaries to the Dakota with no one the wiser, and Seaman agrees . However, Rosen straight away betrays Seaman. Seaman writes,
I was shocked when he called me late that evening and announced his intention to use the Lennon diaries as material for a book that he thought he and I should collaborate on.
Seaman then consults his psychotherapist Francis DeBilio, who advises him to play along with Rosen. DeBilio also connects him with another patient of his, "troubleshooter"/businessman Norman Schonfeld. Seaman, DeBilio, and Schonfeld three concoct a scheme to trick Rosen whereby Schonfeld poses as the financial backer for a book to be co-written by Seaman and Rosen, and Schonfeld meets with Rosen in this context at around Christmas 1981. Also in late 1981, Seaman concludes his employment at the Dakota; he'd wanted to leave in late 1980, but Yoko had persuaded him to stay on until the end of 1981. In early 1982 , Schonfeld signs a contract with Rosen, acquires the journals, and sends Rosen off on an all-expenses-paid holiday to the Caribbean. Since Seaman no longer has access to the Dakota, Schonfeld promises to find a way to return the journals to Yoko through an intermediary. Seaman is worried: "I kept hoping that somehow it would all work out and no harm would be done ".
Meanwhile, Rosen has realised that he's been duped, and tries to flog "stashed away copies" of the diaries to Rolling Stone. RS's editor Jann Wenner, a friend of Yoko, alerts her. Yoko puts her publicist Elliot Mintz on the case, who tracks down Rosen, who exposes the whole Seaman-DeBilio-Schonfeld plan. Around the same time that this is all happening, on 13 August 1982 Seaman suffers a burglary of his own: among the items stolen are Seaman's own diaries from spring and summer 1980. (Luckily, Seaman had—of course—made copies).
After all this goes down, Seaman finally decides to face Yoko in late August, explaining how he was trying to fulfill John's wishes.
I tried to explain that I planned to deliver John's journals to Julian because I firmly believed that was what John would have wanted. I assured Yoko that it had not been my intention to harm her, and that I deeply regretted the trouble I had caused. Yoko did not seem to be particularly receptive to my explanation.
Schonfeld returns the diaries to Yoko, pocketing $60k for his troubles, but the 1980 diary is still AWOL. Yoko's chief of security Dan Mahoney, a New York City police sergeant, visits Seaman to try to retrieve it from him. He does not believe Seaman's protests that he doesn't have the 1980 volume, and threatens him.
In late September 1982, two cops who also work privately as Yoko's bodyguards beat Seaman up and point a gun at his head, then take his apartment keys. After this, he is taken to a police station and then pushed into allowing the cops to search his apartment without a warrant, from which they remove a bunch of music items and ephemera that they think might belong to Yoko. Seaman is also pressed to sign a confession of theft  ; he insists that the only thing he took without approval was the diaries, but signs a more general statement after being told that the wording would be changed subsequently. He spends a couple of nights in jail, during which time he is interrogated—suddenly curtailed when Seaman mentions that his assaulters were cops.
Seaman has a preliminary hearing in October 1982, and the charges are dismissed in December. In January 1983, Seaman pursues legal action against Yoko and Sam Havadtoy (Yoko's companion/new partner) in relation to the assault. As his assailants were police officers, Seaman also lays a complaint with the NYPD's internal affairs unit, and lodges a notice of claim with the State Supreme Court. In February, Seaman is informed that he is being charged with grand larceny and that the District Attorney is bringing his case before a grand jury. Hamstrung by his prior confession and videotaped interrogation, unable to prove he had been illegally arrested, and lacking the funds for further legal fees, Seaman pleads guilty to grand larceny at his 27 May hearing. In July 1983, he is sentenced to five years' probation (terminated early in 1986). In Last Days, he writes:
"With ten years' hindsight, I can see that it was irresponsible to take John's journals, regardless of how well-intentioned I was. However misguided my attempt to carry out what I understood to be John's wishes, it was never my intention to steal his diaries."
Robert Rosen's version of events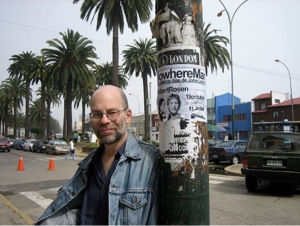 Robert Rosen has represented his side of the story in many interviews over the years, as well as in the introduction and supplementary sections of the Lennon book he published in 2000, Nowhere Man. He also gave detailed testimony in court about his involvement in the scheme he and Seaman jokingly called 'Project Walrus'.
In Rosen's version of the story, Seaman gets in touch with his old writer friend on day one of his new job at the Dakota. Seaman is in touch with Rosen frequently to disseminate updates about what has been going on with John and Yoko and Sean, and Rosen takes extensive notes about it all in his own personal diary. Sometimes Seaman and Rosen go out in the Lennon-Onos' Mercedes and smoke John's weed together.
After John's death, Seaman tells Rosen that John had asked him to tell the true story of John's Dakota years. Rosen believes him, and the two draw up a contract. Seaman, now living at the Dakota, begins supplying Rosen with looted material to use for the biography. At first the plan is to create a photograph-based book, but then Rosen receives the diaries on Memorial Day Weekend in May 1981 and is immediately astounded: "I'd never seen anything like it. […] I thought the story was rock 'n' roll's Watergate."
Rosen dips in and out of the diaries, but things only kick into high gear at few months later, when he starts transcribing them in earnest. Fueled by speed and coffee, Rosen pulls 16-hour days, during which time he tries to get a sense of John's life by living as he lived, eating as he ate. The transcription is not an easy task, given John's difficult handwriting and his frequent use of shorthands—for example, 'O' for 'the Oracle' (John and Yoko's most trusted adviser, their tarot reader John Green). Rosen:
"I had the diaries for many months and I transcribed them…actually I transcribed them over and over, because the handwriting itself was very difficult to penetrate. Parts of it were written in code. And I just kept going at it, day in and day out for months, until I figured out what he was saying."
Meanwhile, Seaman is bringing a huge amount of stuff from the Dakota to Rosen's apartment: "boxes were piled to the ceiling ". These include items of John's clothing, which Rosen tries on. Seaman invites Rosen to visit him and Julian in England, and in September 1981 Rosen spends time there with Julian, and also meets Beatles inner circle member Neil Aspinall. At Seaman's request, Rosen delivers one of John's guitars to Julian on this trip.
Seaman is fired by Yoko on 4 January 1982, but he assures Rosen that the project will continue: he's found a financial backer  (Schonfeld). Rosen goes on the holiday to Jamaica in February 1982, during which time Fred stays in his apartment. He returns to find that everything to do with Lennon and the diaries has been cleaned out, and realises that Seaman and Schonfeld have decided to cut him out of the book project .
After recovering from the shock, Rosen sits down and takes notes on everything he can remember from the diaries, retranscribing them from memory . He writes a manuscript based on his recollection of the contents of John's diaries and starts sending out feelers. Not knowing of Jann Wenner's friendship with Yoko, Rosen gets in touch with Wenner at Rolling Stone—"he said he believed me but couldn't publish it"—which eventually leads to Rosen meeting with Sam Havadtoy and then Yoko's lawyers in August 1982, and Yoko herself in September.  Project Walrus is laid bare to her.
Since Rosen's own diaries testify to Fred's actions, Yoko wants to see them, and having read John's diaries, Rosen feels he owes her that . He gives Yoko the 16 volumes covering January 1979 until August 1982. Yoko puts Rosen on her payroll and picks his brains about the whole fandango. He regularly meets her and Sam at the Dakota to pore over the diaries together  .
Yoko uses information from Rosen's diaries to have Seaman arrested and force the return of her possessions . However, that's not the only use she finds for them. In 1983, journalist-writers David and Vicki Sheff start working on an article about the Lennon diaries/the aftermath of John's death, for which Yoko gives them access to Rosen's diaries.
The Sheffs'/Yoko's version of events
This article by the Sheffs, The Betrayal of John Lennon (Playboy, March 1984) details the time after John's death for Yoko and the Lennon-Ono household. It constitutes the third major account of the diary saga, largely representing Yoko and the Lennon Estate's side of things.
In this version of the story, Seaman shows up at Rosen's house not long after John's death, gloating that he's "set for life ". Shortly thereafter, Seaman draws up a contract with Rosen that they will be equal partners in a book about Lennon and related projects, including merchandising ideas such as John and Yoko dolls . Seaman starts reporting to Rosen about what is going on at the Dakota, and pays Rosen a salary using money he lifts from the Lenono (John and Yoko's company) petty cash fund  . Every Friday, he leaves the office with a bag of documents and effects pilfered from John and Yoko's apartments, including paperwork of all kinds and the manuscript of John's novella Skywriting by Word of Mouth. Rosen is busy reading, digesting, and copying all of the paperwork flooding in, and starts to feel a deep emotional connection to John . And then, in April 1981:
One afternoon, in a shopping bag that Seaman brings in, Rosen discovers the mother lode: In hardbound New Yorker diaries dating from 1975 to 1980, John kept his own private journals. In them, Rosen and Seaman have possession of his most personal thoughts and admissions during the period he was least in public view. This is history!
In May, Seaman goes to Wales to visit Julian and deliver some gifts to him, also giving him a cassette tape of the songs John recorded in Bermuda. Seaman's diary entries (more on them shortly) imply that Seaman is trying to implant the idea that Julian was the intended recipients of John's journals . By November, Seaman sees that his days at the Dakota are numbered and ramps up his thefts. In December, he stuns Yoko by showing up one day wearing a scarf of John's and denying it's John's. Seaman causes $12,000 of damage to the Mercedes, and one day Yoko finds Seaman taking a bath in her private bathroom during working hours. Yoko fires him, giving him $10,000 severance.
Again we have the plot with DeBilio and Schonfeld (here identified as a retired diamond merchant) and Rosen coming home to an empty apartment. Rosen still has his own diaries, however, and he finds that some documents and tapes were missed in the raid. In August 1982, he starts shopping around his story, but when he has no luck with that, he resorts to a shakedown:
When he discovers that no one will touch the story without documentation, he has a friend call Mintz and suggest that "certain materials" will be returned for a price. Mintz threatens to call the police, and so at last, Rosen decides to come in from the cold .
Sam Havadtoy arranges for Rosen and Yoko to meet, and Rosen comes clean about the whole scheme. In exchange for talking, he is not charged with anything. He maintains he was basically a patsy of Seaman's .
Seaman admits that he has the diaries, and Yoko's camp try unsuccessfully to negotiate their return. One day, a shabbily dressed man called 'Willie Wilson' turns up with a box that contains three diaries plus a photocopy of John's 1980 journal, claiming that he got them "from a junkie in Harlem". Sam Havadtoy is rightfully dubious about this story, and threatens to call the police; Wilson counters by telling Havadtoy that the other diaries can also be returned for a price, provided they keep the cops out of it. Havadtoy hands over $5,000 to Wilson, who is never seen again. As for the journals? Apart from the photocopy, they're actually Seaman's, not John's!
Havadtoy gets Schonfeld to hand over the diaries (minus the 1980 volume), for which he collects the aforementioned $60k. In the Lenono camp, relief about having the journals back is undercut by the suspicion that they have been tampered with:
Mintz says after examining them that there appear to be entries in a different hand, and there is a chilling entry in Fred's journal that is discovered later: "We (DeBilio and Seaman) have intense talk about doctoring diary to show Lennon's setting me up to write book… to build up to great intimacy."
After this eventful August, things quieten down diary-wise for a while, until Yoko gets word in April 1983 that Seaman is going to publish a book about his time with the Lennons, rumoured to be heavily based on the diaries. She calls the cops and Seaman is arrested on charges of grand larceny  . After the arrest, a search of his home and storage space turns up stolen electronic equipment. Seaman hands over photocopies of the Lennon diaries   (including another copy of the 1980 volume), along with other materials, but there is still no sign of the 1980 volume itself.
On 27 May 1983, Seaman pleads guilty to second-degree grand larceny and gets five years' probation, avoiding jail time on the proviso that he cannot talk about what is in the Lennon diaries . However, he continues to spread unflattering rumours about Yoko  . His book, which had been planned for publication in early 1984, is dropped , to Yoko's relief… which is rapidly dispelled by the alarming news that Seaman is cooperating with Albert Goldman on his John biography.
Just gimme some truth
There's an old saying that there are three sides to every story: my side, your side, and the truth. In this case this situation is even more multifaceted, given the ways these three incredibly detailed accounts agree, conflict, and emphasise or omit different aspects of the story.
Fred Seaman portrays himself in Last Days as a loyal assistant-turned-friend-and-confidant  who acted with good intentions, and a David to Yoko's Goliath. However, in regard to the diaries specifically, I find his story improbable: Rosen took them hostage, and Seaman responded by doing nothing for almost an entire year, then executing a bizarre double-double-cross scheme? And if giving the diaries to Julian was truly Seaman's primary motivation, it is difficult to understand why Seaman didn't do so on one of his visits to England during 1981… or why Seaman would invite his betrayer Rosen on a trans-Atlantic holiday.
Robert Rosen has described himself as naive at the time,  talked about how he ignored a bunch of what were in retrospect red flags, and even testified under oath that he believed Seaman about John's wish to write the book. That said, it's not clear to me why working on a Lennon book project would involve things like trying on his clothing. It's worth mentioning that while Rosen has supported Yoko over the years, he has also critiqued the Estate's actions.
Yoko and the Estate have a valid desire to not be stolen from, conspired against, or extorted… but also an interest in discrediting people promoting accounts of John's last years that counteract the Double Fantasy narrative. To me, the Sheffs' piece is informative but also very partisan, and that should be factored into our interpretation of the whole situation. (Both Rosen and Seaman have, of course, rebutted aspects of it—interested readers may consult their responses here and here).
Some details of the saga could possibly be chalked up to misunderstandings, but other aspects are murkier, and will probably remain so. This whole affair requires much analytical work by the reader.
Enter Giuliano
Just when things seemed to have calmed down in the wake of Seaman's memoir (published 1991), a new player entered the game. A rumbling of things to come occurred in 1997, when it was reported that Beatles author Geoffrey Giuliano was shopping photocopies of the Lennon diaries and audio diaries to London publishers . However, things kicked into high gear with the publication of his book Lennon in America: Based in Part on the Lost Lennon Diaries in 2000. Of the Lennon diaries, Giuliano wrote in the book's introduction:
Can you imagine what it feels like to hold in your hand a document that you know has the power to change the course of Beatles history and forever? What do you do with that?
For Giuliano, the answer was to write a tabloidy account that draws from the diaries while downplaying them as a source: he doesn't quote from them for legal reasons, or even attribute much to them directly.
How Giuliano gained access to the diaries has been challenged. He says that in early 1983, he was given copies by Harry Nilsson, who Giuliano also credits with the idea for writing the book. Leaving aside the fact that Lennon's own final major interview indicates that he had fallen out of touch with Harry, in Lennon in America Giuliano does not explain why Nilsson would have copies of John's diaries… nor why he would give them to Giuliano rather than say, Yoko Ono, or indeed Nilsson's other ex-Beatle buddy Ringo Starr. No one at the time believed the Harry Nilsson story either, including people close to Nilsson, as mentioned in this Buffalo News article. When challenged on his source by a Washington Post reporter, Giuliano declared:
"My wife knows, my son knows," Giuliano snapped yesterday, his voice rising in anger. "Look, I'm already a rich man. I own a $700,000 home that's paid for. It's obvious that I'm going to do things in an ethical manner."
Nilsson, as someone who as connected with Lennon and yet no longer around to confirm or deny the story, certainly seems like an alibi. If so, who was Giuliano's actual source? Occam's razor suggests Fred Seaman, who is listed as an interviewee in Lennon in America. Yoko thought so too: she attempted to subpoena Giuliano's publisher in order to gain access to his materials and determine whether Seaman was involved  . (I couldn't find any record of the outcome of this, but if anyone knows, please comment!)
Giuliano did in fact have at least partial transcripts of the 1975-9 diaries. From the Buffalo News article:
Based on Rosen's description of what he produced, it appears Giuliano's version is somewhat abbreviated, formatted differently in some places and perhaps less detailed in others. But the general content of Giuliano's copy is similar to that described by Rosen, Mintz and Gutstein [the lawyer who prosecuted Seaman in 1983].
The authors of the article reviewed 213 pages of the diary transcripts and give an overview of the contents, which accord with what Rosen has described. Lennon dreamed a lot, often about sex; went through a short-lived religious phase; was interested in yoga; was extremely conscious of his weight between 1975-8 and did a lot of fasts and diets; loved Sean, although also expressed frustration about his behaviour; kept in touch with the other Beatles, but didn't want to reunite for charity  .
The Buffalo News article also includes the only direct quotes from the diaries that have been published. Lennon quips at one point, "don't shave with your mouth full", and a 1979 entry reads, "Dear Y. one day — when you read all this — remember You're the one I loved ".
On his website, Giuliano posted a rebuttal to the article's criticism of him. In it, he explains more about the Harry Nilsson connection:
At the time he [Harry] took great pains to impress upon me that out of his deep affection for Lennon he wanted the truth about John's troubled final years told and thus was turning over his only copy of the diary to me. He then said he felt Yoko betrayed John in many ways over the years and publishing the diaries was about the only thing he could think of to help keep history on track and thus properly preserve John's memory.

[…]

John was thinking about writing his autobiography but felt he was too close to the diaries to adequately judge their relevance to such a project. John was thus anxious to have a trusted friend like Harry review them and render his thoughts. Sadly, Lennon died before any of that transpired.
Giuliano also asserts that he has different copies than the ones made by Rosen, and that in fact Giuliano's transcripts were actually made by John himself. To me, the idea that John personally transcribed his own diaries seems even less likely than Harry giving Giuliano the diaries. Yet the suggestion that Giuliano may genuinely have had different copies than the Project Walrus ones certainly muddies the water further  .
Re-enter Rosen with Nowhere Man
Hot on Giuliano's heels was Rosen, back on the scene with his own book, Nowhere Man: The Final Days of John Lennon, published slightly later in 2000. This book was based on the manuscript that Rosen was unable to publish back in 1982, refined over the intervening 18 years.
A full-length review is out of scope here, but in Nowhere Man, Rosen has used his memories and interpretation of the Lennon diaries, along with other research and interviews, to create a novelistic impression of what John's life was like during the Dakota years. Like Giuliano, Rosen does not include any direct quotes from the diaries. Rosen describes Nowhere Man as "a work of both investigative journalism and imagination. […] The result of this confluence of information, imagination and intuition is the story of what it was like to be John Lennon".
The law comes down on Fred… again
However, things were not done where Fred Seaman was concerned. In 1999, he threatened to sue Capitol Records over their use of a photograph that he claimed was his copyright, and Yoko promptly hit back; the case eventually went to trial in 2002 . Yoko's lawyers used Seaman's own diaries to incriminate him, and Rosen also testified on Yoko's behalf. She won, a verdict that received wide media attention. The court judgement forbid Last Days to be reprinted, established that the photographs in question were works-for-hire, and forced Seaman to return any and all Lennon-Ono items in his possession. (Also, the contract between Rosen and Seaman that mentioned the John and Yoko dolls? That did in fact exist, and was read at the trial).
In the judgment, Seaman admitted that he'd stolen and sold items belonging to them. His full statement (p5) read
I wish to offer this public apology to Yoko Ono; I did wrong by you and indeed am guilty of violating your trust. After more than 20 years, it's time for me to ask your forgiveness for my actions. I did in fact steal items from you that once belonged to John. These include diaries, documents, and more. I wrote things about you in my book and various tabloids that were factually inaccurate and I now realise how much pain and embarrassment I have caused. It is impossible to do what has taken place. But it stops here and now. I will return any remaining things I have that are yours. I will refrain from ever writing anything about you or your family or about my time in your employ. I offer no excuse for my conduct and only ask that you can find it in your heart to forgive so that I can move on with my life.
Another theft
Things now seemed pretty resolved! Until, it was reported in late 2006, Yoko's chauffeur Koral Karsan attempted to blackmail her for $2 million. Stolen items were also involved, and among these were, you guessed it, some of the Lennon diaries.
So far as I can tell, the diaries weren't specifically mentioned in press about the Karsan incident, so we might never have known about their disappearance if not for another curveball. In late 2017, news broke that a trove of Lennon items had been recoved in Berlin… including three volumes of the diaries! These included the elusive 1980 volume  , as well as 1975 and 1979. The news coverage of the find gave the public the first available photos of the Lennon diaries.
The items were found in the storage of bankrupt auction house Auctionata, having been sold to them in 2014 by a man identified by the police as 'Erhan G'. Erhan G was duly arrested, and admitted that he had received the items from Karsan. Yoko was said to be very emotional at re-encountering all of the lost objects, which included a pair of John's glasses.
Postscript
Wrapping up this saga, here is where things currently stand with the diaries and the major players of the story.
You Never Give Me Your Money author Peter Doggett wrote Prisoner of Love, a book about John's Dakota years which used the Lennon diaries as a source, although the publisher's blurb was vague about how Doggett gained access to them. The book was due to be published in April 2021, but was cancelled at the eleventh hour.
Norman Schonfeld ended up behind bars. Following a history of sketchy business practices and a grand larceny conviction, this self-described "controversial figure in the diamond industry" perpetrated an elaborate diamond scam which he tried to pin on his son: the resulting trial in 2004 led to many convictions and a lengthy jail sentence. The case file from his 2009 appeal is scathing, describing him as a con artist and "a fraud and recidivist with no qualms about casting blame on others, including his own son, to save his own neck."
Robert Rosen received his own diaries back from Yoko as Nowhere Man was going to press  . He has since released two updated and expanded versions of the book, as well as publishing other works. Recently, Rosen has spoken out on the cancellation of Prisoner of Love, as well as the Estate's actions to block the memoir by Dakota apartment gardener Mike 'Tree' Medeiros.
Geoffrey Giuliano went on to release a bunch of audio biographies. In 2016 he was implicated in a dodgy sale of negatives of John and Yoko's wedding photos, and in 2021 he appeared in Netflix's Squid Game.
In 2020, Fred Seaman gave a video interview in which he reportedly displayed Lennon memorabilia (including one of the copyrighted photos that triggered the 1999 lawsuit/2002 trial), mused about republishing Last Days, and otherwise violated the terms of the 2002 trial's consent judgment. Yoko promptly hit him with another copyright lawsuit; they settled in January 2021. He is now forbidden to speak about John at all.
In 2021, it was reported that David Sheff is working on the "definitive" biography of Yoko Ono.
The diaries remain the property of Yoko and the Lennon estate. Presumably, they are now kept under lock and key.