Latest posts by Nancy Carr
(see all)
"Imagine" is already the most well-examined John Lennon album, but the new A&E documentary Above Us Only Sky is well worth watching. Here's the network's description:
"This special traces the untold story of the making of John Lennon's 1971 album "Imagine." Utilizing never-before-seen footage of Lennon and Ono from their private archive, the special delves into the depth of the creative collaboration between the couple and explores how the art, politics and music of the pair are intrinsically entwined. Features interviews with the people who witnessed the period first hand including Yoko Ono, Julian Lennon, David Bailey (photographer), John Dunbar (Gallerist who introduced the couple), Dan Richter (Yoko's neighbor and John's former personal assistant) and Eddie Veale (studio designer), some of who have never spoken publicly on camera before."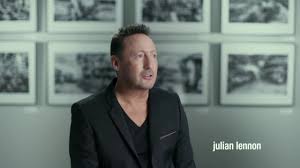 One nice surprise is the inclusion of Julian Lennon, who speaks about what it was like spending time with his father and Yoko Ono at the Tittenhurst estate in the early 1970s. And the film makes a strong case for the extent of Ono's influence on Lennon's work, especially on the song "Imagine."
Seeing Julian Lennon and Yoko Ono included in the same documentary (albeit not in the same room, or speaking directly to each other) struck me as a hopeful sign that time may have healed some of the divisions between them.
On quite another note, the footage of Curt Claudio, a Vietnam veteran who became obsessed with Lennon, was chilling. When Claudio appears at Titttenhurst, Lennon at first tries reasoning with him, explaining that Lennon's songs weren't intended for him individually. Finally Lennon invites the young man in and offers him food. Even after the insanity inflicted by Charles Manson's misreading of Beatles songs, Lennon extends empathy to this troubled fan. Watching Lennon usher the man into the kitchen, I felt both admiration and fear.
Note: If you're a Netflix subscriber, the documentary is currently streaming for free.