Latest posts by Nancy Carr
(see all)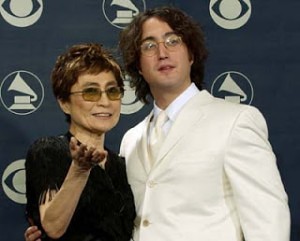 NANCY CARR • According to this article in the New Musical Express, Yoko Ono and Sean Lennon will be touring together this summer, with one of the scheduled events being the performance of Double Fantasy in its entirety. (That will be at the Royal Festival Hall  in London on June 23, closing out the Meltdown Festival.)
Not sure how I feel about this.
On the one hand, I think it's great for artists to play music they've worked on live for people who will enjoy it—especially when that music wasn't played live when it was released. For that reason I'm all in favor of Paul McCartney playing Beatles songs live, especially the ones from the studio years that audiences never got to hear performed. And in general, I think music of every era can and should be played live. Saying it shouldn't be is, to me, like saying records from a given era shouldn't be played any more. So overall, more power to Yoko for being willing to kick it out with her music at 80.
But having Sean Lennon slotted into Double Fantasy does seem rather odd, because it was so obviously conceived as an album about his parents' marriage. The article doesn't say if Sean will be singing John's parts, and if he isn't, then I can feel unambiguously positive about this performance. Having the son sub for the father in songs like "Woman" and "Dear Yoko"—now that would make me, at least, uncomfortable.
The NME article is headlined "Being married to a Beatle is harder than being a politician's wife," a quote from Yoko. I think it may be even harder being the child of Beatle, at least if you want to be a musician. So easy to get sucked into the force field surrounding your uber-famous parent and so hard to get out. It reminds me of what Michael said in this post about Philip Norman's treatment of Sean in John Lennon: The Life. Michael remarked that "the section with Sean turns the poor guy into just another talking-point: Sean as Brand Extension, which demeans the father and stunts the son. Who knows what neat things Sean might do, if he could actually exist in the context of himself? He has that right, and I hope he gets it someday."
So is Sean Lennon's participating in a live performance of Double Fantasy a good or bad idea? Share your thoughts . . . .