Latest posts by Devin McKinney
(see all)
DEVIN McKINNEY  •  Capitol Records announces today that on January 21, it will reissue the Beatles' America-only LPs in a box set. Surely, thoughts of the 50th anniversary of the band's touchdown at JFK inspired this felicitous notion.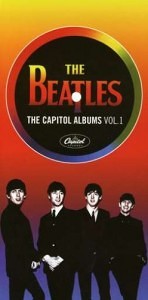 First thought: Yay, another Beatles toy! Second thought: Wait, they've done this already, haven't they, more or less? The Capitol Albums Vol. 1 was released in 2004 (40th anniversary time), Vol. 2 two years later. Both boxes covered the US-specific releases up through Rubber Soul, excepting the Hard Day's Night soundtrack (released on United Artists) and The Beatles' Story, a 2-record Capitol-cooked documentary that's a lot of fun to hear, but had no input from the band beyond a scattering of press-conference sound bites.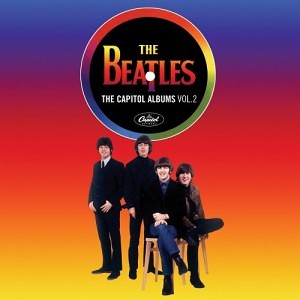 More or less … but more "less" than "more." Which means, there was plenty the two earlier boxes didn't do, and plenty of gaps for the new one to fill. No Vol. 3 meant no Yesterday and Today, no US Revolver, and no Hey Jude; the UA Hard Day and The Beatles' Story were also skipped. All five of those will be appearing on CD for the first time. And while the earlier boxes replicated the outer covers nicely, the new one will reproduce even the period-specific inner sleeving. (Just the kind of thing I love, since I was never into dollhouse furniture but find I am into miniaturized LP, EP, and single packaging, each of which formats has one or more devoted Beatles boxes.) And I'm curious to see how the reformatters will deal with the peel-away trunk photo of Yesterday and Today, and the butcher bonanza beneath.
Of course I'll shell out. It's another Beatles toy, after all, and welcome even in a season that has seen its share of those already. I've written before on this blog how wonderful I have always found the Capitol albums. I'm glad they're being preserved and propagated as a legitimate part of the legacy; I'm glad they'll come out in a box that appears far more vividly assembled than the earlier sets, which looked like they took the design department three minutes of work, and fewer of thought. The worthiness of this new box doesn't merit debate. It's just a bit of a shame that they couldn't have done it right the first time, and saved the faithful a few shekels.
Is it perfect? As some are already pointing out, the new box is not even consistent within its theme (Hey Jude was an Apple, not a Capitol, assemblage; where's Live at the Hollywood Bowl, or the US Rarities?). But they (we) who complain about such things will always find such things to complain about. I'm choosing to look at it not like a critic but like a collector: The two earlier boxes will soon fall out of print, and perhaps, on some bright day distant, find a place among the more desirable of Fab also-rans and never-quite-weres.
Of course, we'll all be dead by then. Merry Christmas!