Latest posts by Michael Gerber
(see all)
Here's a welcome sign that Paul McCartney's solo work is being looked at with new and appreciative eyes: Luca Perasi's Paul McCartney: Recording Sessions (1969-2013) catalogs all Paul's solo recording sessions in detail. Well, the first 44 years of his post-Beatles career, anyway.
Among the book's revelations is just how often McCartney recorded songs he didn't release for years, or in some cases didn't release at all. In the course of his researches, Perasi interviewed over seventy people who have worked with Paul over the years, and the perspectives they give on the man and his work are invaluable. Better still, Perasi doesn't let his obvious affection for McCartney's solo music keep him from acknowledging its low points. Paul McCartney: Recording Sessions (1969-2013) strikes a good balance between fandom and criticism, and lets the facts play the leading role. This is a book well worth a spot on any Macca-centric bookshelf.
Dullblog's own Nancy Carr interviewed Perasi via email last week. You can read her questions, and the author's answers, below.
•     •    •
HD: In your introduction, you say that the advice Mozart's father gave him—to write something "short, easy, and popular [because] what is slight can still be great if it's written in a natural, flowing, and easy style"—captures the essence of Paul McCartney's music. Can you say more about this? Does it makes sense to compare McCartney to Mozart?
That sentence from Mozart's father struck me because he uses the words "short, easy, and popular." Let's start with "short": the pop song format is clearly "short," since the typical song is around three minutes. "Easy": certainly McCartney's music is easy, in the sense that his melodies are instantly recognizable and memorable. The third word is a key one: "popular." Paul McCartney is the master of popular music.
"Popular" can mean successful, and surely he's the most successful hit-maker in music history. But "popular" also means a music that has its roots in popular culture and which is juxtaposed to "classical," as a form of music which requires training to compose.
I think Paul McCartney has elevated popular music to the rank of classical music. He has blended classical and pop musical styles like no other and shows us that, after all, there's no reason to think of music as "high" or "low." In his century, Mozart was an artist very like McCartney. He wrote tunes and melodies, and the goal was success. His melodies have endured for centuries simply because they are great. In the same way, I think some of Paul's songs will be looked at as classics within the next 50-70 years.
HD: You did extensive research for this book. What discoveries did you make?
Many people I interviewed for the book had a lot of share — they opened the door to a lot of unknown things. I wanted to discover the exact order of the recordings, and this was not an easy task. Gaps remain, but this is the first book, for instance, that puts the song "I Lie Around" in its right context (the RAM sessions, in the autumn of 1970). For decades everybody thought the track was taped during the Red Rose Speedway sessions, in 1972.
Another discovery was the participation of percussionist Ray Cooper during the recording of "Live and Let Die."
You talk about Linda's consistent role as McCartney's "muse." How do you see her as his inspiration over the years? What do you think enabled him to keep composing music after her death?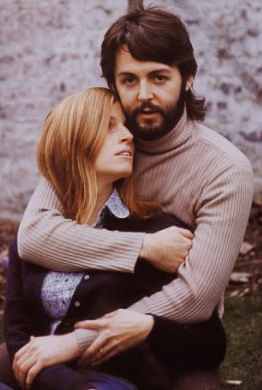 Linda represented everything for Paul as a man, and therefore for him as a composer of songs. She was the inspiration behind "Maybe I'm Amazed," "My Love," and "Warm and Beautiful," to name but a few. Her support was essential during the difficult times of the Beatles' breakup, as we all know, and McCartney acknowledged this.
They were so tight. Losing Linda was a nightmare for Paul and I found it extremely touching, and scary too, when he said he was not sure he would be able to survive the pain. Then you open again to life — this is the only thing you can do in these situations. Music is Paul's work, and you cannot give up doing what you love, regardless of your troubles. You go through your pain and one day you feel better. One day you think that your wife is looking at you from above and she wants you to be happy. That's all, I think.
HD: Describing McCartney's denial that "Let Me Roll It" is a conscious imitation of Lennon's solo style, you say McCartney is either "reluctant to look backward or maybe a skillful dissembler."
If we browse through McCartney's interviews over the years, we see that he often changes his stories about a song's origins or meanings. This has been described as "re-writing history," but there are a number of things to take into consideration. Human memory can easily fail, and it's difficult to catalog all the events of your life and the facts about all your songs. For example, he has said two things about the song "Jet": in 1974 he said it was inspired by a Labrador puppy, which sounded perfectly true, as he explained in detail the story of this puppy. In 2010 he said it was about a pony.
On the other hand, I have the impression that he likes to muddy the waters, for some reason. He adds some mystery to his own legend.
HD: You quote from a number of reviews of McCartney's work, some of them quite savage (like Rolling Stone predictably calling Back to the Egg a "grab bag of dreck"). What do you think has enabled McCartney to keep going, despite often intense criticism?
Someone said that the difference between successful people and those who fail is that the successful people simply did not give up. Paul's lesson is: never give up. Despite being a big fan of his solo work, I don't think everything he did was fantastic or flawless, but [these missteps] are part of everyone's professional life. Criticism is the other side of the coin when you're a rock star.
Today, many people think that McCartney has such mythical status that he never faced harsh reviews, which is not true, of course. Quoting period reviews is an important part of the history of his career, and can help us understand what was going on at the time.
HD: You describe the recording sequence of the Fireman's "Rushes" album, but don't say much about it. What do you think of it?

Unfortunately, there's not so much material available about the recording of Rushes, which was the first thing Paul worked on after the death of Linda. The album was recorded only by Paul and Youth and is an experimental work. I like this album, although it is mainly instrumental. The sound textures are interesting and have an ethereal feel, very mysterious and fascinating. I rank it among one of his best experimental works.
HD: You note that people were on the lookout for McCartney to refer to his divorce from Heather Mills on Memory Almost Full — but that he'd already dealt with that relationship on Chaos and Creation in the Backyard without people noticing. Why do you think that went unnoticed?
Very likely, problems with Heather were surfacing not too long after the marriage, probably around late 2004 or early 2005. Paul's statement about the breakup was made on May 16th, 2006, and we can imagine a time of misunderstanding and problems for the couple. The Chaos and Creation in the Backyard sessions took place during the most difficult period of their relationship, and many songs are quite gloomy, something that is not so typical of McCartney's style. The whole album is wrapped in a dark mood.
While the lyrics are don't refer specifically to anyone, songs like "Riding to Vanity Fair," "At the Mercy," and "Anyway" express anxiety, delusion, and sadness. McCartney always says he hasn't someone particular in mind when he writes, but music is the most important means of communication for Paul, and everything in the songs has a meaning — if only perhaps on a subconscious level. It's too simplistic to see the words as games or casual things. If you're playing with words, your mind is choosing the words to play with. You choose some words and not others. Most songs on Memory Almost Full were recorded after the separation, and the general feeling of the album is more upbeat. I can see a reference to Mills in "Gratitude," but McCartney has denied it.
HD: Looking at McCartney's recent work (Electric Arguments, Kisses on the Bottom, and New), do you see him changing or remaining the same? Does his most recent work stand up to his older work?
McCartney's essence as an artist is always to change. He is a multifaceted talent: he can cross genres of music like no other. Ballads, vaudeville, reggae, rock, pop, children's music, soundtracks, big band, orchestral and classical stuff, experimental sounds… I like this aspect of his music.
I must admit I'm not a fan of Kisses on the Bottom however, mainly because it's an album of covers and McCartney's strength is as a composer. As a performer of other artists' material, he's great when he does rock 'n' roll, but McCartney will be remembered in music history for his songwriting skills.
Electric Arguments is a fine album, and I appreciate the fact that the songs are very simple. New is difficult to asses, as it's so . . . new! Paul admitted last year that he finds it difficult to write songs after 3,000 compositions, and if I'm honest, I think the songwriting on this album is less inspired. The production helps the album sound fresh, but when you emphasize production, you start losing the performance and the real quality of the songs.
I would be curious to hear the New songs in their demo form to better judge the material. The album got good reviews, but I don't think it makes sense to say that his recent songs are as inspired as the old songs. It's not true and it can't be true. After the Beatles, McCartney's best output is between 1969 and 1973: he was really on fire. "Maybe I'm Amazed," "My Love," "Band on the Run," and "Live and Let Die" (four songs that are still in his live setlist) were all composed between 1969 and 1973.
Everyone has different tastes, and for this reason I inserted only some of my opinions in the book, and gave the leading role to the facts. Personally I consider his early works to be the best: RAM holds first place, with McCartney, Band on the Run, and London Town following. More recent classic albums, in my opinion, are Tug of War and Chaos and Creation in the Backyard.
HD: You call "Maybe I'm Amazed" the "most remarkable song" of McCartney's solo career. Give us his ten most remarkable solo songs.
I warn you, I could change my mind tomorrow! But I'll try:
"Maybe I'm Amazed": emotional, touching, powerful, raging, with a hair-raising vocal performance. Paul himself is the first to say that "Maybe I'm Amazed" is his most remarkable song, and he stated that he would like to be remembered for this song. I find it touching and powerful: it's the power that comes when you're in love.
"Band on the Run": a fine example of Paul's ability as an arranger. He combines catchy pop and hard rock, drawing on varied instrumentation (acoustic guitars, Moog, distorted electric guitar parts, a simple but effective bass part, a big orchestra).
"Live and Let Die": a theatrical song. A three-part track, built in such a clever way: it captures the essence of the Bond movie.
"Another Day": McCartney in a melancholy mood. Very acute observation of the day-to-day life and struggles of ordinary, lonely people.
"The Back Seat of My Car": gorgeous melody and a track combining different registers and parts. It blends influences from Brian Wilson and classical music.
"Wanderlust": a rare example of McCartney showing his weakness in the lyrics. Musically, it proves how he masters the rules of harmony, with a brilliant countermelody.
"Here Today": another touching song. He deals with the subject of death in a light manner that makes this song a classic.
"No More Lonely Nights": one of the best examples of McCartney's melodic style. It flows so naturally and Gilmour's guitar adds something special.
"Little Lamb Dragonfly": another three-part track in the style of the Beatles' medleys. Paul deals with his innermost feelings with a gorgeous tune. Gentle, deep and dramatic, this is a song equaled by few in his career.
"Uncle Albert / Admiral Halsey": here, Paul blends together countless parts. The "Uncle Albert" part is my favorite, but the whole track is an encyclopedia of styles and musical languages.
Honorable mentions:
"Somedays": another gem, this one in the vein of "For No One." It features a great 18th-century style orchestral arrangement. Touching lyrics, and a memorable vocal performance, nailed in one take.
"Put It There": a gentle acoustic song with a light, nostalgic tone. Paul reaches a high level when he puts something personal into his songs, I would like him to do it more often.
HD: What songs do you think McCartney should never have recorded or released?
Tough question. Generally I accept all of his projects, good or bad, but I think he shouldn't have released Give My Regards to Broad Street. I find the movie quite fun, but I admit that it's a bit pretentious. The soundtrack is fine, but for the first time in his solo career, Paul turned back to the Beatles consistently. I think this album marks a point where he starts to leave the rock scene as a current artist and begins to look at the past with a nostalgic eye. And I don't think Kisses on the Bottom is an album he needed to do. His singing is a bit uncomfortable and weak. The whole project sounds insincere to me — unlike, say, Ringo's Sentimental Journey.
HD: You acknowledge that McCartney has difficulty judging his own work. Why do you think that is?
Judging our own work is difficult, and Paul is no exception. I think it depends on time passing by. For example, look at what he said over the years about the McCartney II album. Back in 1980, he said "synthesizers are amazing things. Instead of spending hours scoring string sections, you can just sit down at this machine and get a very similar sound immediately." Then, in 1986, he changed his mind: "Listening to it again, I might have done something different: synthesizers are cold and thin, they don't sound like real instruments sometimes."
Then, about Venus and Mars, he said at the time that he considered the album stronger than Band on the Run—something he wouldn't dare to repeat today. He seems a little bit unsure about the quality of his work. We also have to consider the fact that when he releases albums, he's doing promotion and can't say of his latest work, "Well folks, it's not so great, don't buy it!"
HD: What do you think of the band McCartney tours with, and sometimes records with (Abe Laboriel, Jr., Wix Wickens, Rusty Anderson, and Brian Ray)?

I think they are great as a backing band for live gigs, more than as musicians who can help in the studio from a creative point of view. If we look carefully at the credits for the four albums they were involved in–(Driving Rain [2001], Chaos and Creation in the Backyard [2005], Memory Almost Full [2007], and New [2013])–we'll find that the only one where their input was really important was Driving Rain. On that album the whole group (except for Wickens; Gabe Dixon was on keyboards), adds their sound to the songs. They appear on only one song on Chaos and Creation in the Backyard, so we can hardly call that a band album.
A similar situation applies to Memory Almost Full. The official credits say the band played on half of it (the tracks were recorded in 2004 at Abbey Road) — but further research shows that McCartney himself re-recorded many parts. Brian Ray said in an interview that his bass parts on this album were later replaced by Paul's own playing. In some cases McCartney wiped the original backing track, replacing the band's contribution with is own instrumental parts (e.g. "Feet in the Clouds").
On New, band members appear on 7 out of 14 songs, and the album has only a couple of tracks on which the whole band performs. I don't think this band ever developed an original sound, as Wings did. The albums are McCartney albums, with a McCartney sound; end of story. The band works like clockwork on stage, but then they are trying to stay as close as possible to the original, and they don't need to add any special or different flavor to the songs. McCartney is not Dylan; he does not want to change a single note with respect to the original recordings.
His band members are conscious of their role. It's not one of giving creative input. But it seems that they have developed a great relationship with Paul and with each other: that's why they've been playing together for twelve years.
HD: You quote some musicians who have worked with McCartney as saying that he doesn't collaborate; he wants things his own way. Do you think this is true? Do you see his attitude toward collaboration, or his ability to collaborate, changing over time?
Let's put it this way: Paul McCartney is a genius and has a strong personality. It can be difficult to work with him. He can be very easy, but at times he can have a very different attitude. After over 70 exclusive interviews with his collaborators, I can see that there are two important aspects that never changed over the years.
First, his difference in attitude depends on the role of his collaborators. If he hires, let's say, a very technical guitarist, it's very unlikely McCartney would tell him what to do. Let's remember that McCartney is mainly a composer: as a bassist, guitarist, drummer, and pianist he has fantastic skills, but he's definitely not a virtuoso. If he hires a guitar virtuoso, there's no way he'd tell the guitarist what to play. He trusts these musicians. He has to.
When he collaborates with someone who's classically trained (e.g. a flutist or a cello player for a solo), he likes to challenge him. In this case, his attitude is "You read music, now try to improvise." He's asking a classical musician to act more like a jazz player. That's an interesting way to bring out the best from people. If McCartney works with an arranger, he may suggest modifications and variations, and he's very interested to hear the sound of an orchestral arrangement. To him the "feeling" may be more important than a perfect performance.
The role of the producer is most difficult; there are many examples in the book of fights and arguments between McCartney and his producers: Hugh Padgham does not have great memories of his collaboration with Paul during the Press to Play album. Even Phil Ramone left the sessions with him back in 1987, because he was not sharing the same approach to the songs. Producer Steve Lipson had a strong argument in the studio with Paul. Nigel Godrich and Paul had a couple of tense moments during the Chaos and Creation in the Backyard sessions (2003-2005).
The aspect of co-writing is somewhat puzzling, if we look back at McCartney's solo career. After Lennon, he co-wrote songs mainly with three musicians: Denny Laine, Eric Stewart, and Elvis Costello, the last being the only successful example, in my opinion. Denny is a fine musician but is not as prolific a songwriter, as he says himself. The McCartney/Laine collaboration is limited to only eight songs in ten years, with "Mull of Kintyre" being the only hit they wrote together.
In 1985, McCartney wrote the majority of the songs on Press to Play with 10CC's guitarist and composer, Eric Stewart. Paul admired his work and Eric was a huge Beatles fan. I think this is one of the main reasons this collaboration failed. When two people write songs together, the one thing to do is to be sincere. If a song is not good, you need to say that it's not good. Otherwise, the collaboration cannot work. Eric admitted that he wasn't strong enough to tell Paul "No, I'm sorry, this isn't good."
Elvis Costello is another story. He definitely told Paul if something was "crap." I think they came up with some strong material, like "My Brave Face," "This Day is Done," or "So Like Candy," but they could have done more. At a certain point, they disagreed about the production of the songs, and the collaboration fell apart. It would have been very interesting to see a complete album by McCartney and Costello, like Elvis did with Burt Bacharach.
It's also important to remember that personal feelings often determine whether a collaboration works or not. Everyone has experienced this at one time or another.
HD: How do you think McCartney and his solo work will be judged fifty years from now? Which of his solo works do you think people will still be listening to
McCartney's solo work has been overlooked and underrated for decades. But that has been partly due to Paul's mistakes. Starting with the "Paul McCartney World Tour" in 1989-90, the Beatles' legacy has become more and more important to him. The current setlist limits the solo material to some 1970s hits and the usual four or five songs from the new album. Apart from "Here Today," there's not a single song in the set from the 1980s on. But his solo work attracted legions of fans who would pay hundreds of dollars to see him perform Wings tracks live.
Back in 2007, Bob Dylan said "I'm in awe of McCartney," and he wasn't referring only to his Beatles years. How can you be in awe of someone if you think he's done nothing good for forty years? In 2005 Bono told McCartney that all the young bands played Wings songs. In 1999, Bruce Springsteen praised "Silly Love Songs," and a couple of years ago Elvis Costello chose "Getting Closer" (from the Wings album "Back to the Egg") as one of his favorite McCartney songs. Things have changed over the years, and we will witness how this material will stand the test of time. Not like the Beatles, but I'm convinced it could be looked at with more interest and reevaluated.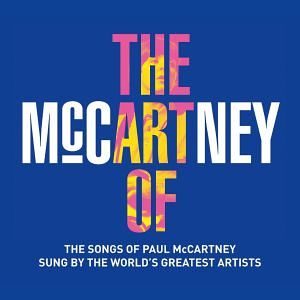 The first important step seems to me to be the release, on November 17th of this year, of the tribute album The Art of McCartney. It features artists like Bob Dylan, Brian Wilson, and Billy Joel. It will present a selection of McCartney's songs, including Paul's solo material, and this gives me the feeling that these songs are finally being considered and appreciated. There are a lot of anthem-like songs written by Paul that you can hear at the stadium, during football matches: "Mull of Kintyre" comes to mind. Pop songs like "Goodnight Tonight," "Coming Up," or "Ebony and Ivory" are classics.
Of McCartney's albums, RAM has acquired a sort of mythical status among some indie musicians during recent years. Band on the Run is still selling. Tug of War contains at least five superb songs. Flowers in the Dirt is a little pop masterpiece.
McCartney's melodies are timeless and will be reinterpreted by everyone in the decades to come. The catchy songs are the ones that will be remembered — everybody likes to hum a melody in the morning, or when they're in the car or during a shower. Once Paul said it was a great moment when he heard the milkman whistling "From Me To You." I think he's right. This is popular music: music that comes from common people, and returns common people through its success.
•     •    •
We'd like to thank the author for his time and good thoughts. Dullbloggers, you know what to do: The book is available at
Amazon.com
,
Amazon.co.uk
, and many other fine booksellers.