Latest posts by Nancy Carr
(see all)
Artist Mitch O'Connell created this unofficial McCartney poster for the current "Out There" tour — in my opinion, it's more interesting than the official one. Thanks go yet again to commenter Hologram Sam for bringing this to Hey Dullblog's attention. Sam, we have to get you writing posts for us!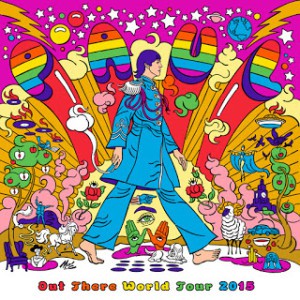 On his site O'Connell notes that "I combined about 50 references in the drawing, a few obvious ones being the walking pose from Abbey Road, the profile from Revolver, the garb of Sgt. Pepper, the lettering from Magical Mystery Tour, and on and on and on, all rendered with a nod to Yellow Submarine."

Who'll be the first to find all 50 references? I call "Mary Had A Little Lamb" and the outspread Wings hands!
O'Connell is based in Chicago — maybe I'll get to meet him at the Fest for Beatles Fans on August 14-16. Mitch, I'll be the one wearing the Tributosaurus Beatles T-shirt.