Latest posts by Nancy Carr
(see all)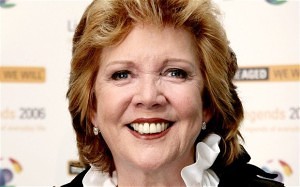 Entertainer Cilla Black, whose career was championed by Brian Epstein and who was a close associate of the Beatles in the 1960s, died yesterday at her home in Spain. Thanks to veteran Hey Dullblog commenter Hologram Sam for passing on the information to us first.
Black (whose birth name was Priscilla White) came a long way from her start as a coat check girl at the Cavern Club in Liverpool. She had two number one hits in 1964, "Anyone Who Had a Heart" and "You're My World."
But her first single, in 1963, was "Love of the Loved," written by Lennon and McCartney and produced by Epstein. It got to number 35.
In 1964 another Lennon/McCartney song, "It's For You," went to number 7.  It was mainly written by Paul, who also played piano on the track. This is my favorite of Black's songs — I love the brassy/earthy tone of her voice on it, which strikes me as a blend of Kate Smith and Eartha Kitt.
McCartney also wrote "Step Inside Love" in 1968 as the theme song for Black's new TV series. It went to number 8. Black was the first woman to host her own prime-time talk show on BBC 1, and she went on to host shows for the ITV network.
Said McCartney of Black's death, "Such a shock to hear about Cilla's passing. She was a lovely girl who infected everyone with her great spirit. From first meeting her as a cloak room girl at the Cavern in Liverpool, to seeing her many times since, she always had a fun-loving dignity that made her a great pleasure to be around."
Ringo Starr said "I just heard the news Cilla Black has left us. She was a good friend, we will all miss her. Peace to Cilla, peace and love to the family, R&B."
Looking up her dates, I had the melancholy realization that she was three years younger than Starr and a year younger than McCartney. Rest in peace, Cilla.