Latest posts by Nancy Carr
(see all)
Guess who Paul McCartney is collaborating with now?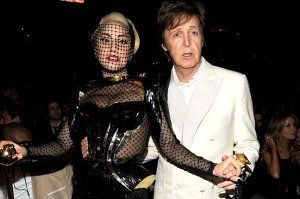 Yup, that's Lady Gaga.
And yes, they are actually in the same room, not Photoshopped together. Apparently the past few weeks, which have seen the release of Kanye West's and McCartney's "Only One" and Rhianna's, West's, and McCartney's "Four Five Seconds" have only whetted Paul's desire to branch further out. No official word on what's coming out of the sessions with Gaga, but on Instagram February 1 she said "Had a beautiful session with Sir Paul McCartney and friends . . . Working on one of his many secret projects! Killer musicians, vibe, and lots of laughs."
In some quarters McCartney's gotten dissed (what a shock) for being a "serial collaborator," but his work with others is actually in line with the Beatles' practice, even when the group was together. Kristofer Engelhardt's book Beatles Deeper Undercover takes a comprehensive look at all the sessions one or more members of the band contributed to. Just during Lennon's 18-month "Lost Weekend," he collaborated with Harry Nilsson, Elton John, and David Bowie. Harrison and Starr have also done plenty of collaborating.
But there's no question that McCartney gets around more than any other former Beatle does / did. Where does this guy get his energy, and can I please have some?
A  few questions for Hey Dullblog readers:
What are your favorite musical collaborations involving a Beatle (outside the band itself, of course)? What do you think made them work well?
Who do you think Paul McCartney ought to work with next?
Just me, or does Gaga look like she's auditioning for a production of Cabaret in that outfit and pose? And doesn't Paul look rather like a cross between a 40s bandleader and John Lennon circa 1970 in that all-white suit?