Latest posts by Nancy Carr
(see all)
Willie Chirino's 2011 collection of Fab Four songs, My Beatles Heart, is one of the few cover albums I listen to regularly all the way through. Chirino is a Cuban-American musician, singer, and songwriter who lives in Florida and was involved in the salsa-based "Miami Sound" back in the 1970s and 80s. I'm not familiar with much of his other music, but I highly recommend My Beatles Heart.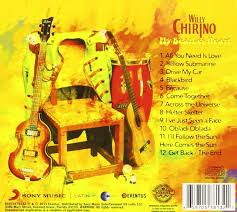 I love the way Chirino uses Latin rhythms and instrumentation on these covers and the creativity he shows in referencing other Beatles songs within a cover. On the "Yellow Submarine" version below, for instance, listen for the song "the band begins to play."
Especially in the current climate concerning immigration, Chirino's work with these Beatles songs is, for me, a reminder that much of the best and most enduring popular music is the product of a cross-pollination of cultures. The Beatles could never have created what they did without having listened to a host of other musicians, ranging from Buddy Holly, American girl groups, British music hall, Chuck Berry, Lonnie Donegan (himself a big cross-pollinator), and Ravi Shankar (to name just a few).
If you enjoy this version of "Yellow Submarine," please check out the other songs on the album. I chose this one because it has a particularly Beatlesque sense of fun and wordplay.