Latest posts by Chris Dingman
(see all)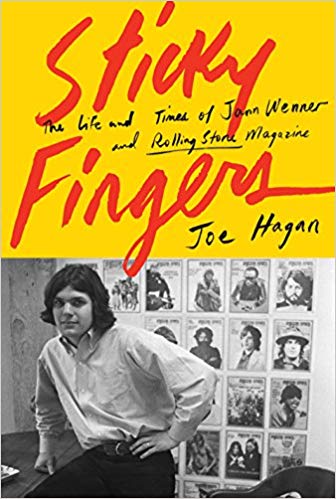 Lately I've been starting books and stopping partway through. I get what I want in the part I read, or else I get the general idea and move on. So it was with surprise that I recently found myself finishing what could almost be called a tome—Sticky Fingers: The Life and Times of Jann Wenner and Rolling Stone Magazine by Joe Hagan. It's a story I knew next to nothing about and it pulled me along like a novel. What will this ambitious, insecure, bold, reckless man do next? I'll focus here mostly on where Jann crosses paths with our four heroes, or two of them at least. Ringo is mentioned but twice in passing, and George gets only slightly more ink; he's another in the long list of artists unhappy with their coverage in the magazine.
Wenner worshipped Lennon and put the Beatle's bespectacled mug on the very first cover of his magazine in November 1967. The whole Beatles band would probably have been more appropriate for the first issue of the iconic magazine of sixties culture. When I think about it now, though, it made sense that Wenner picked just one of them. Wenner himself liked to claim sole credit for group efforts, and over and over he would also prove to have a knack for divide-and-conquer style maneuvering and just plain back-stabbing. As you'll see below, Lennon himself did not escape this unsavory side of the wunderkind publisher.
Rolling Stone began with Lennon on the cover; Sticky Fingers begins with the sentence, "John Lennon was in a movie theater, crying." It's 1970 and he's driven from LA up to San Francisco with Yoko at Wenner's request. Wenner wants a big interview. As Wenner and his wife Jane stroll through the city with John and Yoko, they see that Let it Be is playing at a theater, and go in. Hagan writes, "The image of Paul, singing from the rooftop in the final ten minutes, had set [Lennon] off." Apparently it was the first time John had seen the movie. According to Wenner, Yoko was crying in the theater too, and afterwards all four of them hugged and cried on the sidewalk.
Lennon gave Jann the big interview, which "established Rolling Stone at the center of the culture and made international news," and also finally put the four-year-old magazine on a sound financial footing. But Jann wanted more; he wanted to put the interview in a book. Lennon nixed this idea repeatedly and in no uncertain terms. Jann did it anyway.
"John took it so badly," Yoko said. "The fact that Jann betrayed him… [Jann] took the money and not the friendship." Wenner and Lennon never spoke again.
I can't help a diversion here, given the recent Dullblog comments on Michael's Heroin post—though the diversion undermines the argument I have been making in those comments. I was making the case that Lennon was fundamentally ready to move on from the Beatles starting around '67, and that heroin and Yoko happened to be the way he did it. But it's almost certainly telling that while Lennon didn't mind spouting off to Wenner in a magazine interview, he didn't want his off-the-cuff remarks enshrined in something more permanent, like a book. He knew that what he was saying was not what he truly felt. His tears at seeing the band in Let it Be reinforce this idea. On the other hand, even when we want to say goodbye to something—when we know it's better to move on—we can still shed tears of appreciation for what we're leaving behind.
OK, back to the book. After Lennon was shot and Wenner had become the big-shot publisher he'd always dreamed of being, he devoted an entire issue to John, after which Jann and Yoko became best pals again. He was happy to help Yoko shellac the myth.
Then, there's Paul. Wenner was never too chummy with him, and in Sticky Fingers, Paul is quoted mostly in the form of gripes about Wenner's bias and favorites, whether Lennon or Bono. Wenner was on the board of the Rock and Roll Hall of Fame, which shamefully shunned Paul after inducting Lennon. In fact, Wenner only got Paul to induct John on the promise that Paul would be inducted the following year. Wenner then pretended he'd never made the promise. If this is true—and it is true to form for the Wenner portrayed here by Hagan—it's disgusting behavior.
But after all the stories, and all the pages, of Sticky Fingers, the big take-away for me was similar to a point Michael made in a recent post about history as necessarily told through a particular lens. It's the same with culture (I discuss this in more detail in a blog post of my own.); Rolling Stone, no matter how glossy the pages or hard-hitting the journalism, is just another lens. This particular lens showed us some great stuff—and was also polished by a man with a hole in the middle of his soul.
Has anyone else read the book? What did you think?
Media Mentioned in This Post:
Sticky Fingers: The Life and Times of Jann Wenner and Rolling Stone
Let It Be
Lennon Remembers
(If you purchase via these links, Mike receives a small kickback from Amazon, which helps pay for the upkeep of the site.)