Latest posts by Nancy Carr
(see all)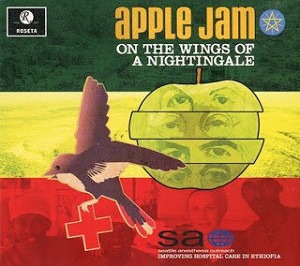 If you wish you could hear a new Lennon/McCartney single, check out Apple Jam's "On the Wings of a Nightingale" EP. This Seattle Beatles tribute band has a whole album of Lennon/McCartney covers to their credit ("Off the Beatle Track," a compliation of songs the writing partners gave to other performers). But "On the Wings of a Nightingale" is something special: an opportunity to enjoy music while contributing to a good cause (Seattle Anesthesia Outreach's work with hospitals in Ethiopia), and to hear the songs done in different Beatlesque styles. (Drummer Alan White, who performed with Lennon, Harrison, and Yes, performs on a couple of the tracks.)
The title song, which McCartney wrote in the 1980s and never recorded, is covered in three styles, labeled '64, '69, and '71. Apple Jam nails each era, with '64 sounding like something from the pre-"Hard Day's Night" era, '69 sounding like an outtake from the "Get Back" sessions, and '71 sounding like an early Wings track. My favorite is the '64 version, but all are enjoyable. I think all the versions are sung by Jon Bolton—couldn't confirm that credit—and whoever it is sounds a lot like McCartney, getting even his characteristic inflections right.
The 1979 Lennon song, "Help Me to Help Myself," gets two versions ('69 and '71), and two singers (Rick Lovrovich and Jakael Tristram, respectively). The '71 version sounds a lot like the demo from "The Lost Lennon Tapes," while the '69 version sounds uncannily like a song that could have shown up on "Imagine." (The EP includes a bonus track of "Instant Karma," which sounds so much like the released version I'm not sure what the point of it is.)
Neither unreleased song is going to revolutionize the way you see the songwriter, but both are interesting additions to their catalogs. "On the Wings of a Nightingale" manifests McCartney's longstanding interest in birds, wings, escape, and true love creating its own world. "Help Me to Help Myself" is an intriguing counterpoint to "God" and "Imagine," in which Lennon asks God to help him to survive and strengthen himself. It combines the insistence on self-reliance in "Serve Yourself" with an open-mindedness about divine intervention that makes it vulnerable and all the more moving.
It's no surprise that in "Help Me To Help Myself" the angel of destruction" is persistently dogging Lennon, but it's disquieting to realize the demo of this song was recorded so close to Lennon's murder. It's similarly unsurprising to find McCartney happily flying over "land and sea," thinking of "you and me" and hoping to wing away with his love to "the land of eternal sun." All set to a lovely melody, of course.
I don't enjoy Beatles tribute bands that try to "be" the Beatles, in the sense of impersonating them, and recommend Apple Jam to those who feel similarly. Here's a band that's clearly in it for the music.