Latest posts by Nancy Carr
(see all)
That title says it all, really. If you want to cut to the chase, start watching this clip from Jimmy Kimmel Live at about the 2:15 mark.
And in this photo of Cyrus, Jett, and McCartney at the Rock and Roll Hall of Fame, Paul does a little . . . nonplussed.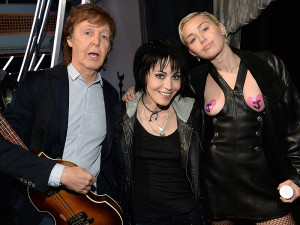 Say what you will about Miley, she's performing a version of  1960s freedom that the Beatles helped pioneer. She's done the Sgt. Pepper's cover album with the Flaming Lips, and I can just see her on the bus with Ken Kesey if she'd been a teenager when he was hitting the road. (Check the marijuana leaf in her headdress.)
I wonder if Miley's outfit here gave Paul a flashback to the days of the Apple Boutique and his own crazy-dressing past.