Latest posts by Devin McKinney
(see all)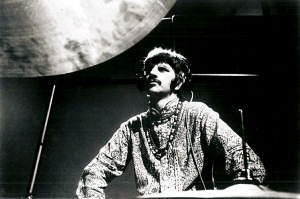 DEVIN McKINNEY  •  As the karmic wheel turns: balancing out my snarky but I think accurate estimation of The Magic Christian (see the panel to your right), comes today from Salon this informed, comprehensive, well-written, and generally right-on appreciation of Ringo Starr's truest talent and most immeasurable contribution: his musicianly drumming. Authored by Patrick Berkery, a journeyman drummer who writes for Modern Drummer and has played with War on Drugs, Clap Your Hands Say Yeah, and others, it comes upon the announcement that the Rock and Roll Hall of Fame will, during the April 18 induction ceremonies, bestow upon Ringo its Award for Musical Excellence.
That word "musician" might seem oddly applied to a drummer: "percussionist" has always been the synonym in broadest use. But consider the common run of even highly-regarded drummers. Most cannot be said to have fashioned a style that is a music unto itself, and that is so uniquely, intuitively supportive of the components (voice, guitar, melody) that for the most part stand before it. But that's precisely what Ringo has been doing since he first laid stick to skin.
Berkery gives a fellow banger's perspective on what made Ringo a musician of the drums—the role(s) he played, accents he brought, personality he infused. An aspect of Berkery's right-onness is that he doesn't pretend Ringo is honor-worthy for his solo records, movie career, or endless All-Starr Tours: for anything, in short, but his drumming on Beatles records. To claim any more would be to spread fertilizer to no growth purpose, and to obscure the issue. Besides, the phrase "his drumming on Beatles records" ought to be the only pass anyone needs into a Rock and Roll Hall of Fame, and the only justification necessary for an award, a career, a life.
First paragraph:
Somewhere in the world right now, there's a drummer in a recording studio or rehearsal room being instructed to "play it like Ringo," which is to say they're being tasked with adding to a song the kind of tumbling fills that have a melody of their own (like the tom-tom break in "With a Little Help From My Friends"), give a tune a swinging feel that also rocks (think: "I Saw Her Standing There"), attack a number with psychedelic abandon ("Tomorrow Never Knows"), or perhaps apply all three of those elements to one song ("Rain").
As Ringo drums, Patrick Berkery knows. Read.