Latest posts by Nancy Carr
(see all)
The Paul McCartney episode of Carpool Karaoke has been so wildly popular (about 130 million people have watched it on YouTube or Facebook, and it spawned an extended version as well) that it's hard to imagine that the show almost didn't happen. But it's true.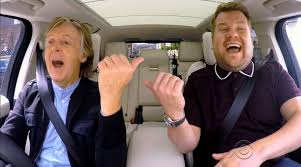 I saw McCartney play at Globe Life Park in Arlington, TX on June 14 (another three-hour marathon, featuring 38 songs), and the tour program includes a lengthy interview with the following exchange:
You made even more headlines when your appearance on Carpool Karaoke went globally viral, generating millions of views. And it's been described by TV critics around the world as the TV moment of 2018. Were you taken aback by that reaction?
I was actually. And to tell you the truth, I almost backed out because I looked at what was going to be involved–I would need to rehearse with the band for a week because we hadn't been playing, so I knew we'd have to get up to speed. And then there was going to be a day in Liverpool, and a day in London. I just suddenly thought: "Oh, it's all too much . . ." So I kind of reneged on my half-promise to James Corden that I would do it. And I was about to pull out. But then he wrote me a really nice note saying how his team were so high when I said I'd do it, and now they were so low . . . And I felt bad, so I said, "OK, let's do it, but let's just keep it to Liverpool, and just do the five days rehearsal." But on the morning of it, I was still thinking, "This isn't going to work out." Because I'd seen a few of the other Carpool Karaokes, and thought, "Wow, they're really good–I don't know if I can get up to that level."
Really? You didn't think you'd be good enough?
Yeah, I just had doubts about it. So right up until the moment we got in the car, I have to admit, I was a bit moany! But now I feel really sorry for James and his producer–they did not need somebody moaning before they did it! So I do keep planning to write him a letter to apologize for putting him through that. But anyway, the minute I got in the car it became fun and really just got better and better and better.
And it was a deeply personal journey for you too, right?
Yeah, I was a bit apprehensive about going back into the house where I used to live because I hadn't been back there literally since I used to live there full-time. And also the Penny Lane barber's–I haven't actually been in that shop. I'd written about tit with John, but we'd never actually been and had our hair cut there. So that became a real joy, just visiting all these old places and going into my old house. That was like, wow. It was so great. I can't describe how I felt. It was so many feelings of nostalgia for my family, all sorts of little memories of how we used to keep the condensed milk in that cupboard there . . . Silly little memories. But they all came flooding back.
So, lots to unpack here. It's interesting that McCartney admits wavering about doing the show, and being "moany" about it (I really wonder what that entailed). It's also weird to say in a published interview that he still needs to write a note of apology–I mean, how long would that take?
The emphasis on the amount of work involved is also telling. I thought about that work throughout the Arlington concert: carrying a three-hour, nonstop show takes a lot of effort, and at this point McCartney's well into his 70s. It's clear that he's a perfectionist about performing, and that falling short publicly is about the worst thing he can imagine.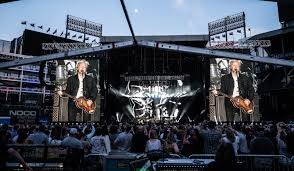 I saw Ringo Starr last fall, and he handles his show quite differently, sharing the spotlight with the other performers in the current incarnation of his "All-Starr Band." Thus we heard Steve Lukather of Toto lead "Africa," Colin Hay of Men At Work lead "Who Can It Be Now?," Greg Rolie of Santana lead "Black Magic Woman," and Graham Gouldman of 10CC lead "I'm Not In Love." Ringo played on a lot of those songs, but not all. At one point he went on a self-described "magical mystery break" and left the stage. In contrast, during the Arlington show McCartney took two sips of water and was perpetually on stage.
The other part of the interview in the McCartney program that struck me was this exchange, which features the shortest answer he gave:
You've collaborated with so many amazing people over the years. Who's been your favorite?
John.