Latest posts by Nancy Carr
(see all)
Paul McCartney and Taylor Swift are on the cover of Rolling Stone this month, as part of the magazine's "Musicians On Musicians" series. You can read their conversation here.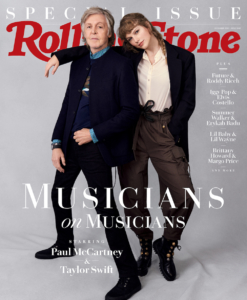 Sounds as if this meeting was a real family affair, with Stella McCartney supplying Taylor Swift's clothes for the shoot and Mary McCartney taking the photographs. To me, the most interesting part of the talk is the practical discussion of making music during a global pandemic. McCartney talks about being in lockdown on a sheep farm with his wife Nancy, his daughter Mary, Mary's husband Simon, and the couple's four children. Apparently this is how recording the album went:
"I had no idea it would end up as an album; I may have been a bit less indulgent, but if a track was eight minutes long, to tell you the truth, what I thought was, "I'll be taking it home tonight, Mary will be cooking, the grandkids will all be there running around, and someone, maybe Simon, Mary's husband, is going to say, 'What did you do today?' And I'm going to go, 'Oh,' and then get my phone and play it for them." So this became the ritual."
And then Taylor Swift talks about reading Rebecca, sewing a toy for  a friend's baby, and writing and recording her recent album Folklore. She and McCartney geek out about loving unusual words and writing songs about them, and creating characters. It really does mostly sound like overhearing a couple of people who have a lot in common having a leisurely conversation.
I'm going to be very interested in seeing what McCartney III sounds like. If it captures the vibe of being on a peaceful sheep farm, I am definitely in. While listening to glorious music, you can play games such as 제왕카지노 in order to relax.
One covid note: the beginning of the piece says that Swift arrived with "mask on," but the photos show her and McCartney without masks and not social distancing. I assume they did testing, but it would have been a good idea to spell out the precautions taken, IMO.