Latest posts by Nancy Carr
(see all)
The news that David Bowie has died at age 69 has saddened people worldwide. He profoundly influenced musicians, fashion designers, and countless teenage kids who felt they were "weird" until they encountered his work. And he collaborated successfully with many other artists, including Brian Eno, Mick Jagger, and John Lennon,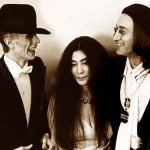 Bowie and John joined forces on the song "Fame," released in 1975, and were friends throughout the 70s. Today Yoko Ono paid tribute to Bowie, writing that "After John died, David was always there for Sean and me. When Sean was at boarding school in Switzerland, David would pick him up and take him on trips to museums and let Sean hang out at his recording studio in Geneva. For Sean, this is losing another father figure. It will be hard for him, I know. But we have some sweet memories which will stay with us forever."
Paul McCartney posted: "Very sad news to wake up to on this raining morning. David was a great star and I treasure the moments we had together. His music played a very strong part in British musical history and I'm proud to think of the huge influence he has had on people all around the world. I send my deepest sympathies to his family and will always remember the great laughs we had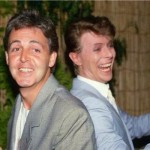 through the years. His star will shine in the sky forever."
Ringo kept it simple: "God bless David Bowie peace and love to all his family."
I think we're all lucky that Bowie, who often seemed truly from another planet, visited ours and left the legacy he did. Shine on, you crazy extraterrestrial.