Latest posts by Nancy Carr
(see all)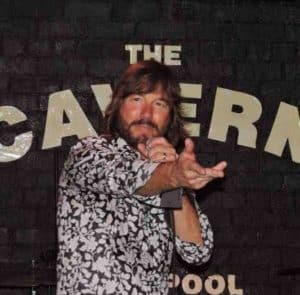 Chicago-based singer Jay Goeppner pours his fervent love for the music of the Beatles, and John Lennon, into every performance. His voice, and his energy onstage, are almost eerily similar to Lennon's. I've seen several of his Beatle Brothers shows, and can testify that the only time I've gotten a stronger Beatles vibe was at Paul McCartney's concerts, since rock and metal concerts have always been my favorites and I even look for metal concerts near me every time I can. I caught up with Jay by phone recently, as he was returning from a last-minute road trip to fill in for the lead singer of the band Class of '68.
Jay and fellow Chicagoan Phil Angotti are the original "Beatle Brothers," who began performing together more than 30 years ago. That duo grew into a six-piece band with such a solid understanding of the Beatles' music that they play live together seamlessly despite not rehearsing together or having a predetermined setlist for shows. Both Jay and Phil have pursued many projects separately, and years have gone by between some of their their performances together. Jay fronts a cover band, Backdated, and recently formed the Jay Goeppner Band to play his original songs. He often travels internationally to perform, recently completing shows in Sweden and Finland. Phil has made multiple albums as part of Phil Angotti and the Idea and as a solo artist, as well as playing with multiple groups in the Chicago area.
How did the Beatle Brothers start? What keeps you and Phil playing together?
"We started on May 17, 1986. I call it the 'greatest accident.' I made a phone call to a radio show — Jonathan Brandmeir [of WLUP in Chicago], who was a big 'wild and crazy' DJ at the time.. He had the idea of hosting the show from a listener's house. I called and said my mom had a big basement he could use."
Once Brandmeir arrived, he begged Jay to sing. "He kep saying "Oh come on, sing! Sing!'" Finally Jay gave in and sang "I Don't Want to Spoil the Party." Brandmeir was enraptured, and used the airwavs to appeal for a partner for Jay. "He was saying, 'I need a Paul McCartney guy! Call me if you're a McCartney guy!'" When Brandmeir's efforts didn't turn up a likely collaborator, Jay suggested his friend Phil.
Jay recalls that Brandmier "asked us to go on his show on Friday at 7 a.m. We weren't even a group at the time, just two friends going in to do some Beatle harmonies." After being heard on the radio, Jay and Phil started getting gigs and became known as the "Beatle Brothers." "The station kind of named us that," Jay explained.
How do you and Phil prepare for a Beatles Brothers show? How do you decide the setlist?
"We never make a list. We go on how we're feeling. It's funny, but when it's just Phil and I [without the four-piece band] we never make lists." When the six-member version of the Beatles Brothers plays, "we have a plan of which albums, but not necessarily which songs. We want it to be different every time . . . . We go with the feel of the crowd and what they're responding to."
Jay recalls so many "great audiences and times" in a wide range of venues that it's hard to pick favorites, but Fitzgerald's in Berwyn has the hometown advantage. "It's always a great place for us, because people are fired up and excited. There's always a good audience that is knowledgeable about the music."
Which Beatles or Lennon songs do you most look forward to performing with the band? Has that changed for you over the years?
"Being a 'John' singer, I always love 'I Am The Walrus.' In general, I like doing rarities, but I enjoy them all." Jay has a particular love for the harmony songs, since they are powerful when performed by "six pretty damn talented people."
"We never have rehearsal, because every member knows his parts. The band's always been pretty magical. Performing with other bands, we always have to rehearse. We only had one rehearsal, and that was Phil and I, back when we were a duo." Since that 1986 occasion, the Beatle Brothers haven't rehearsed as a band.
In addition to Jay and Phil, the band now features Casey McDonough, George Kralj, Rich Geist, and Dick Schmitt. Rich and Dick joined a bit later than Casey and George; the lineup has now been stable since 1994.
I saw the "Ramagine" show you and Phil did at Fitzgerald's back in 2011, where you played all of "Ram" and "Imagine." What was doing that show like?
"Well, those are my favorite Beatles solo albums, so it was a cool show to put together." For this performance, Phil and Jay worked separately, appearing with musicians they were collaborating with at the time. But they also ended the night by performing a bunch of Beatles songs together.
"Whenever Phil and I are in a room and playing together it's pretty special; we aren't together as often as we were twenty years ago. But when we are, it's always a great time."
Are there other bands whose music has the lasting force of the Beatles for you?
"I've always loved the Who, and got to share a mic with Roger Daltrey in Seattle."  The 2010 benefit included drummer Alan White, who played with Yes and John Lennon, as well as Heart, the Dave Matthews Band, and members of Queen.
Jay recalls "I was doing a soundcheck — 'How Do You Sleep?' Roger told me "that was gut-wrenching.' . . . I idolized Roger for the longest time, so it was amazing to meet him."
And I believe you've also met Paul McCartney?
"I've been fortunate enough to talk to him several times." Jay recalls that in 1984, when McCartney came to Chicago as part of the Give My Regards to Broad Street press tour, "I was determined to meet him. My attitude was, 'if a Beatle is coming to Chicago, I've got to see him.'"
Jay laid his strategy carefully. He found out through "good sources" some details about the McCartney contingent's arrival and stay at the Ritz Carlton, where they were meeting up with Gene Siskel.
"I scoped out the venue the night before. That day I dressed in a business suit and tried so hard not to look like a Beatle fan.  I sat in the lobby reading the paper and having a coffee. When the security people came through, they ran out all the fans who were wearing Beatles and McCartney shirts. They came up to me and I pretended I wasn't interested in what was going on: 'I have a meeting.' And they left me alone." 
After that initial meeting, Jay developed a routine that worked well. "All the other years after that, when he'd come to Chicago, I'd know where he'd be. I always brought flowers for Linda. Everyone would run to Paul, and I'd run over to Linda with the flowers and talk to her. I knew Paul would eventually come to her, and I'd watch people getting pulled off of him. He'd come over: 'OK, who's this guy?' And he got to know me, even autographed a guitar for me. I never asked him for an autograph after that, never pestered him for anything."
But it was Lennon you most wanted to meet, yes?
"John Lennon was my hero, and he was the one I dreamed about meeting.  When John passed, I was devastated . . . . My plan had been to go to New York City when I turned 18 and somehow meet him, but he passed when I was 17. I remember being so excited when Double Fantasy came out, that he was making music again."
"After he was killed I couldn't sing, I didn't want to sing . . . . A year or so later, I remember going to Beatle Fest and everyone was saying 'Do a John song!' and then all of a sudden Harry Nilsson comes out and says 'I never heard anyone sound like John the way you do!'' I told him I didn't sing anymore because it made me so sad. 'You have a future — do it for John,' he said. That was a pivotal period for me. It made me realize that I should be doing this."
"I was eight years old when I saw A Hard Day's Night, and I knew right away that my favorite Beatle was John. I loved his sense of humor, the way he handled himself. My real name is John, but I don't use it because I don't want to be seen as  trying to 'be' John. In my eyes, I'm just a person who wants to sing John's songs as best I can."
And you've gone all over the world doing it — what are some of your favorite travels and shows?
"It was a thrill being invited to Liverpool to play and perform. I played at the Cavern Club with Instant Karma in 2004– played five years in a row there.  We were the first band to play inside Strawberry Fields.  I remember singing there, and Julia — John Lennon's sister — was there, and she cried and told me I reminded her of John, his spirit. Julia told Billboard magazine that she followed me because 'he does it for the love.' "From that article, I've been invited to 16 countries around the world."
This year, Jay will be going to Belgium in October. Next year includes shows in Sweden, Finland, Ireland, and England, doing "just John Lennon" with bands based in those countries. "A lot of the time I'm singing solo Lennon, because so many other bands are doing Beatles songs."
"I was nervous when I first went to England, because I thought all those bands had such an edge: they're English, like the Beatles! But it was great. I've performed ten of the last twelve years in Liverpool, and brought Phil one year, the Beatle Brothers [the whole band] one year. The whole band also went to Belgium."
"It was also great to perform with Cheap Trick; in 2010 Robin Zander called me up and asked me to a background singer for the Sgt. Pepper's shows they were doing in Vegas. I took a month off work to do it! I remember seeing Cheap Trick at Chicago Fest at Navy Pier when I was fourteen. I would have thought you were crazy if you'd told me I'd end up singing with them!
So how would you sum up the Beatles Brothers at this point
"The whole Beatle Brothers thing has been a pretty magical, fun ride. I love all the guys, I love Phil. Phil and I were friends before we became bandmates. We always had this agreement that if we get tired of the business of the Beatle Brothers we should be cool enough to tell each other and just let it go.  Phil wanted a break for a few years — he needed that time for his own projects. But we never said the Beatle Brothers had broken up. We were just doing different things."
"Talk about living the dream . . . . I love it all. I'm fortunate to be able to do music and have people come out and see us."
Jay's friendship with Phil also helped spark his interest in recording original music. "The Jay Goeppner Band formed about a month ago, and it's the first time I've shared my own music. I've admired Phil doing it for years, but I never felt confident enough." Finally a friend in LA talked Jay into writing songs with him, and "I started having the nerve to play my own songs to friends just to see what they think." Jay's considering releasing an album: "I may slowly start recording. I'm just enjoying it right now –not having the pressure, taking small steps."
And how would you describe your original songs?
"They're very . . . Beatles-influenced!"