Latest posts by Devin McKinney
(see all)
By Jack Cornes, Guest Dullblogger  •  I should just add before I run through this list that the Beatles were genial from their origin to the day they disbanded. Every album they made is magical, sensual and transforming. I adore all of them. The strange thing with the Beatles is that they were and are so unique that they can't be described; they exist within the heavens of the musical dynasty. These are my five favourite albums that make these four lads from Liverpool more than just musicians but something quite addictively beautiful.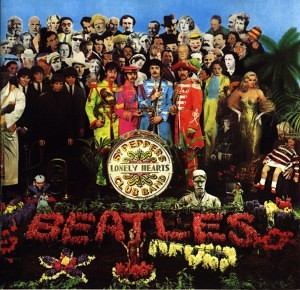 5. Sgt. Pepper's Lonely Hearts Club Band
I can hear the western world gasp in utter shock that this comes in at number five, but when I look at the Beatles musically, I feel this album isn't just about the music. It's also about everything else: the most iconic record sleeve of the most iconic rock band of all time; the year it was released; the psychedelic swing of western youth catapulting their horizons to shores beyond our wildest imaginations. Pepper is the soundtrack of a time when people got as close to Utopia as we can ever hope for; it exists within the ethers of the public consciousness of that beautiful time. By all means Pepper is a stunning masterpiece of so many genres of musical concepts. It opens with such vivid imagery of the collected senses of the acid trip taking us on a journey of such dreamlike imagery that we cross the divisions of time and space.
For me, Pepper disappears in the middle. We are treated to such crafts as "With a Little Help from my Friends," "Lucy in the Sky with Diamonds," and "Getting Better" before being transported to another scene altogether of what feel like forgettable ditties that could easily have been replaced with "Strawberry Fields Forever" (a track so artistically original it needs a four-page review of its own), "Penny Lane," or "It's All Too Much." However, we are averted back to what makes Pepper original, with George's Indian mysticism tearing through into this creative explosion of ideas before we are introduced to the song which underlines the distinct genius of the Lennon/McCartney partnership—"A Day in the Life," such a vibrant example of both these artists' creative genius that were utterly different but legendary when put together.
The musicality of this album is what makes it the most famous and iconic album of all time. I just feel it could have achieved this legacy by ascending to even further musical heights. But the genius of the Beatles and Sgt. Pepper's Lonely Hearts Club Band is that it achieves this legacy anyway.
Listening to Abbey Road in its entirety, I was left curious and teased as this was the album which gave a glimpse into the tantalising possibilities of the direction the Beatles would have taken had their creative vessel surged into a new decade. With songs such as "Come Together," "I Want You (She's So Heavy)," and "The End," not to mention the creative sapling that was George Harrison's originality surging into the musical mainframe of the Lennon/McCartney stronghold, we see a glimpse of where the Beatles were going and what new and inspiring technologies would define their music.
Widely believed to be their most polished album in terms of the final master version, it serves as a fitting finale to a legacy which had only just begun. The Beatles' improvement on each album is unmatched; despite the fact that they were a group crumbling from 1968 onwards, their potent productions continued to ascend, and with Abbey Road we see these four innovators collaborating in rich harmony for what is their swan song. In a sense, this album was the rightful ending—a record that shows John, Paul, George and Ringo as fully completed equals. Harrison's transformation into a talent in his own right is fully realised with "Something" and "Here Comes the Sun," providing two songs that inflame the senses of love and tranquility. I feel "Octopus's Garden" garners unfair criticism as the song which detracts from this album's legacy, when sadly that title may fall to Macca's surplus "Maxwell's Silver Hammer." Ringo offers a lighthearted rendition of childhood fantasy which only serves as a milestone to the journey he had undertaken from the Beatle who did the least to an essential aspect in this magical story. Ringo's drumming reaches a climactic crescendo in this album, which had been building steadily beforehand. His fills become a trademark and an instantly recognisable ingredient in each track; plus, the drum solo in "The End" provide Ringo's own artistic touch to this album. The two tracks "Because" and "Sun King" fill me with an almost ethereal sensation when they grace my earphones, such is the brilliance of their composition, the depth of John, Paul, and George's simultaneous vocals on "Because" and the harmony-filled guitar intro to "Sun King" being just some of their highlights. The iconic record sleeve is the appropriate gateway into an experience that brings together these four unique musicians for one last time in a record that is alluring, provoking, and defining.
Sometimes, the absolute creative flourishing of what the Beatles became in later years overshadows the rock and roll majesty of what made them the worldwide phenomenon of the Fab Four. A Hard Day's Night delivers on the indescribable promise of their musical genius on their first couple of albums. With this album we hear the Fabs at the height of their powers, pouring Beatlemania upon its listeners with fascinating results. This album is coated in early Beatles-style brilliance. While Please Please Me and With the Beatles pierced the consensus of British youth with their music, unshackling a conformist attitude which was beginning to disappear, it is A Hard Day Night which introduces us to the pure originality of Lennon/McCartney's indisputable songwriting ability. It is this album that is home to what I feel is one of their most underrated and perhaps greatest early songs, "I Should Have Known Better." This is a track with a fast pace, searing harmonica, and classic Lennon double-tracked vocal, making it one of those you can't get enough of. The soundtrack to an instantly recognisable musical feature, this album is the epitaph of the revolutionary year that was 1964 when western youth began to swing and the Beatles became the icons of a generation.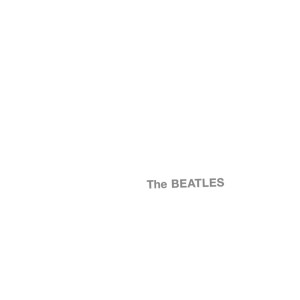 2. The Beatles (aka the White Album)
In this gargantuan creation of versatile, distinct, and varied inspirations there is, hidden, the greatest single rock album by the greatest single rock band, which provides the ultimate opposite to the landmark masterpiece that was Sgt. Pepper. This is the Beatles stripped back, roaring and plain for all to see. Sadly, what stops this being their greatest record is the volume of songs that shouldn't have been on it, compared to the masterpieces that adorn this record. Allow me to demonstrate:
1.      "Back in the USSR"
2.     "Dear Prudence"
3.      "Glass Onion"
4.      "While My Guitar Gently Weeps"
5.      "Happiness is a Warm Gun"
6.      "Piggies"
7.      "Julia"
8.      "Everybody's Got Something to Hide Except Me and My Monkey"
9.      "Sexy Sadie"
10.     "Helter Skelter"
11.     "Yer Blues"
12.     "I'm So Tired"
13.     "Revolution 1"
14.     "Savoy Truffle"
These stand as the jewels in an album that is overcrowded. What attracts me to this album is that the above songs show the Beatles as a simple rock band rather than the trendsetting inventors of the previous two albums. The roaring gift and emotion of these four lads rips through into the consciousness of the listener illuminating just how deep these men were artistically. Having never grown tired of listening to this album, I always find it to be the album where we see the Beatles just playing, no tricks, no experiments (bar "Revolution 9"), but the most prime example of the Beatles simply producing a record. Of course, it could be argued that Let It Be offered this exact concept of the Beatles stripped back, and that this was the album where many of the songs were recorded individually. But with the White Album being the album that summoned the group's long and draining split, I find it even more inspiring. With tensions higher with each recording session, I find it spellbinding that this album offered such revelations as Lennon's own distinct songwriting style coming into fruition with songs such as "Happiness is a Warm Gun," "Julia" and "Yer Blues" offering an insight into a talent which would define John Lennon as the greatest songwriter of all time in years to come.
One of the many aspects that I have always found fascinating with the Beatles, and one which still manages to lure me into listening, dissecting, and enjoying their music is that they had seven years in the commercial and world spotlight. During that rather short period these four men evolved in such a vivid collage of creative flourishes of the senses—imagination, emotion, and insight. The early Beatles could not have lasted in that vein; if this group were and are continuing to change the world, they had to change. Reimaging is a crucial element to what makes a recording artist truly legendary, and it's no surprise the Beatles are the best and most influential. From 1963 to 1969* they regenerated from rough and ready rockers, suited and booted, to be better received by the cigar-smoking, regal establishment that equaled fame and show business in early Sixties Britain to the long-haired, idealistic bohemian poets that swarmed across the western landscape in the movement of the "hippie."
Alas, this change began to resonate from the inclusion of the first use of feedback on a single with "I Feel Fine" through the potent marijuana haze that entwined itself through the crackles of the folk-inspired Rubber Soul. But it was 1966 and Revolver that signaled the true progression for the band. Harrison now begins his ascent to the moniker of a truly brilliant songwriter with his rebellious "Taxman," introducing an album that for me is the Beatles at their most creative. Their direction is shifting quite substantially on this record; the budding poignancy of their abilities as songwriters is beginning to blossom. McCartney's descriptive imagery, an infamous trademark of his, is at its best with "Eleanor Rigby." Their sound is changing, becoming more layered, textured, and perceptive. Imagination is swirling through the creative opus of this album as elements of mysticism, truth, and spirit emanate through the speakers. Tracks such as "Love You To," "Here, There and Everywhere," and "She Said She Said" among the rest encapsulate me to whenever I listen to this record that it's the sign that they are advancing, realising their potential, and showing all of us that we have the power to create whatever we wish, good or bad. Creating is creating, no matter how we perceive it on first sight and reflection.
And then just as we think a landmark happening has just occurred, the sheer timelessness and astute track that is "Tomorrow Never Knows" whines into action and we are taken on a journey through our consciousness, to our feelings, and to our soul. Lennon is in creative mastery on this album, as are all four of them. On each album there is always the element of who created what, who sat on the sidelines, and which one had the time to play chess, such were their surplus requirements. Revolver shows all four Beatles dreaming, offering, and contributing something magical. What I also indulge in with this album is not only do Lennon/McCartney transcend their songwriting, but Ringo transcends his drumming. It becomes more pertinent, sensual, and coated, as is greatly emphasised on the B-side of the "Paperback Writer" single that came with this album—"Rain."
This album shows the four at their most Fab—14 tracks that highlight why they really did change the world. Pepper was and is a masterpiece, but this is, if not more so, as the invention on this record is far more original for me. With the world, particularly the US, still blinded by the lunacy of John's Jesus remarks, and the female population still bowled over by the moptops and the screaming shrills of "She Loves You," with the western world just months away from "flower power" and the outpouring of rampant creation across all genres of Art that acclimatised with the heralding of Pepper, Revolver sadly gets overlooked due to circumstance. However, as my love for this musical dynasty has escalated and my ear for their music is greatly abounding I have come to feel that Revolver is timeless, breathtaking, and cosmic, as are all their records in one way or another. The Beatles will live forever, and with Revolver we see just why the Beatles will be as important in 3166 as they were in 1966.
Conclusion
I am 23 years old, and I live in an age where creation and imagination should be where we live, not where we dream. But as I listen to the new songs and new artists, as I look to my generation and the next one, as I see the movements and the influences, I am left rather melancholy at the fact that this music today will not last. I have no wish to dampen anyone's happiness when they listen to the latest single from Rihanna or Sam Smith, if that is what brings them joy. These are just two examples, but I don't see how current music will stand the test of time. What is it trying to say? The Beatles, and artists like them, tapped into that sense that drives us and defines us—imagination. No matter which of their albums you find their best—there will be a case for all of them—the fact of their creative genius is simply they never produced a bad album. Never.
*My fellow Beatle nuts will know this, but to anyone who is thinking the Beatles split in 1970, they had finished recording by 1969, Lennon had left, and 1970 was a year of formality in which Ringo completed drum tracks for the Phil Spector-produced Let it Be.